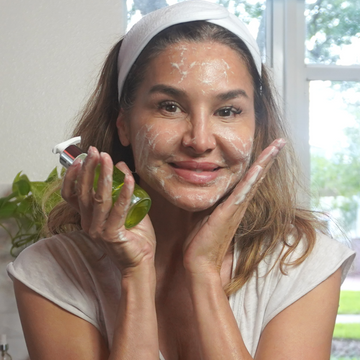 Double cleansing is when you wash with an oil-based cleanser and then again with a water-based cleanser. 

The oil-based cleanser helps to really remove oil-based makeup, sebum, and sunscreen residue. The water-based helps to keep your pores clean and ready to receive your other treatments. 


A lot of synthetic ingredients are added to oil-based cleansers these days. 

Here is a clean and simple method to accomplish your healthy skincare goals without all the nasty unpronounceable ingredients, with just 2 of our favorites:
1) Mix a few drops of our NOURISHING OIL with our MOISTURIZING WASH in your palm or a wet washcloth. Apply to wet or dry skin, massaging in gentle circular motions, including around the eyes, for 30-45 seconds. Rinse or gently remove the cleanser with washcloth.
2) Apply just a pump of MOISTURIZING WASH and massage into skin, using your fingertips or a soft cloth. Rinse off with lukewarm (not hot) water and pat your face dry.

Enjoy the healthy & nourished clean!