MAX-FOLIATION DUO
"My skin has never felt so soft and radiant in my life!! These are my fave exfoliators ever."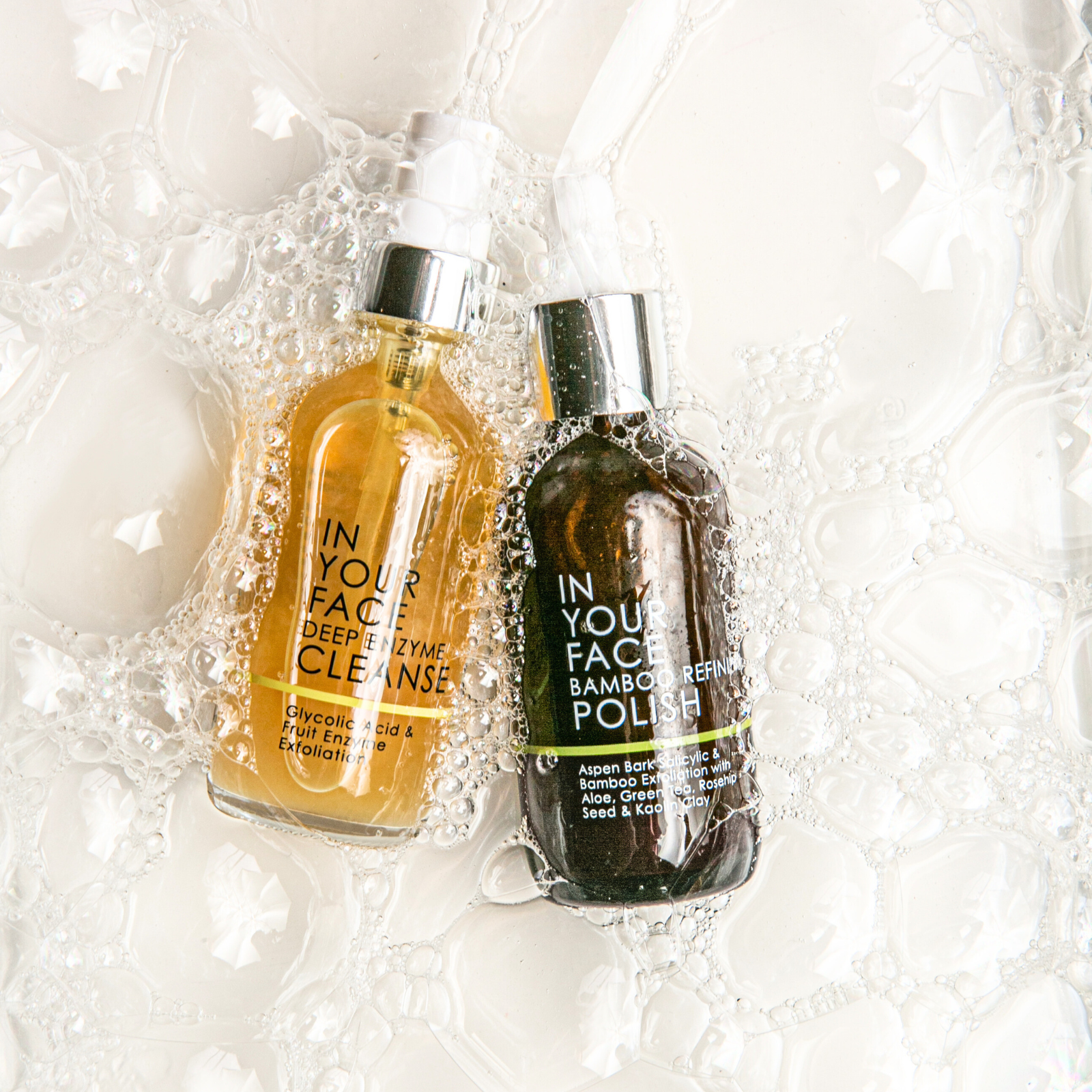 "My skin has never felt so soft and radiant in my life!! These are my fave exfoliators ever."
Experience the transformative power of our gentle yet effective powerhouse exfoliating duo. Our DEEP ENZYME CLEANSE gently sloughs away dead skin cells, revealing a radiant and healthy-looking complexion. Paired with our BAMBOO REFINING POLISH, which features Aspen Bark Salicylic, Aloe, Green Tea, Rosehip Seed, and Kaolin Clay, this powerful combination revitalizes the skin's appearance while deeply purifying pores and eliminating dead skin buildup.
Get both as a duo for
10% OFF!
Translation missing: en.products.product.price.regular_price
$111.60
Translation missing: en.products.product.price.sale_price
Translation missing: en.products.product.price.regular_price
$124.00
$111.60

Want to step up your skincare game with a powerful duo that will leave you with a refreshed, glowing complexion? These two powerhouse exfoliators deliver a deep cleansing and refining experience that will leave your skin looking and feeling radiant.
Get both as a duo for
10% OFF!
Every day, pores are clogged from environmental exposures — dirt, makeup, debris — worsening fine lines and wrinkles. Also, as we age, our cell turnover slows down, leaving us with dead skin build up and a dull complexion.
Regular exfoliation lets your skin breathe by shedding that layer of dead skin cells on the surface, revealing the soft, glowing skin underneath. To get the best results, you'll want to use both types of exfoliators:
Chemical Exfoliation: Uses plant-based acids, enzymes and fruits extracts to "unglue" the bonds that hold dead skin together.
Physical Exfoliation: Uses fine granules and powders to polish and slough off dead skin instantly.
Our combo of physical and chemical exfoliation is guaranteed to give fast results.
DEEP ENZYME CLEANSE: This concentrated exfoliating cocktail can lift away visible sun damage, revealing more radiant younger looking skin. Its powerful, overachieving ingredient, Pineapple Bromelain, is loaded with active enzymes along with glycolic acid (AHA) which helps to gently exfoliate the skin.
BAMBOO REFINING POLISH: Our professionally-formulated skin buffer is designed to gently clarify and improve the texture of your skin. Our all-natural formula includes 100% Natural Salicylic Acid sourced from Aspen Bark, which works to reduce the appearance of pores and leave your skin looking fresh and healthy. Say goodbye to dull, lackluster skin and hello to a refreshed, revitalized complexion.

DEEP ENZYME CLEANSE
Aloe Vera, Glycerin, Xanthan Gum, Castile Soap, Purified Water, Amino Acids and minerals derived from leafy green edible plants, Glycolic Acid, Pineapple Bromelain, Green Tea, Essential Oils of Grapefruit, Sweet Orange, Lemon, and Bergamot.
BAMBOO REFINING POLISH
Aqua, Glycerin (natural humectant), Xanthan Gum (plant-based texturizer), Sodium Cocoyl Glutamate (coconut-derived cleansing agent); Chondrus Crispus Extract (Red Algae), Pentylene Glycol (humectant), Bambusa Arundinacea Stem Powder (Bamboo Powder), Benzyl Alcohol (natural preservative), Xylitol (plant-derived humectant), Caprylic Acid (plant extract emollient), Quillaja Saponaria Bark Extract (plant extract cleanser), Kaolin Clay, Rosehip Seed Powder, Walnut Shell Powder, Camellia Sinensis Leaf Extract (Green Tea), Caramel, Lavandula Angustifolia (Lavender) Oil, and Geranium Maculatum Oil.
DEEP ENZYME CLEANSE
Apply 2 pumps on damp hands and rub together to activate the light enzyme foam. Apply on dry skin, avoiding the eye area. Gently massage in circular motions. Add a touch of water and continue, concentrating on clogged areas.
BAMBOO REFINING POLISH
Apply 2 droppers of our BAMBOO REFINING POLISH and gently massage in circular motions on dry skin, avoiding the eye area. Add a touch of water on your face, and continue circular massage, focusing on dry, congested areas. Rinse with lukewarm water and a washcloth.