IN YOUR FACE SKINCARE is the result of
five generations of family recipes and a lot of love.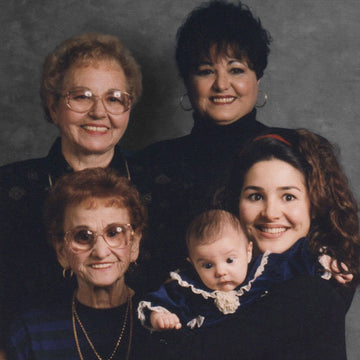 Mi Familia
I was born in NY as the fourth generation of living Italian women who chose NY as a home, for it was Rich with Mediterranean cultural influences on every street. See the picture to the right holding my daughter - 5 generations!
They weren't rich. They made most of their own clothes, grew their own vegetables and herbs. We never dined out, we ate home as a family, cooking and laughing together. Some of those same ingredients we used in food we also used on our skin.
My great-grandmother had dewy smooth skin into her 90s! She ate whole foods and used natural ingredients on her skin. "Healthy inside gives you healthy outside" she'd say.
There was always a little jar of olive oil in the medicine cabinet to be used as a makeup remover, facial moisturizer, and body lotion. She used lemon juice for my acne and for her dark spots.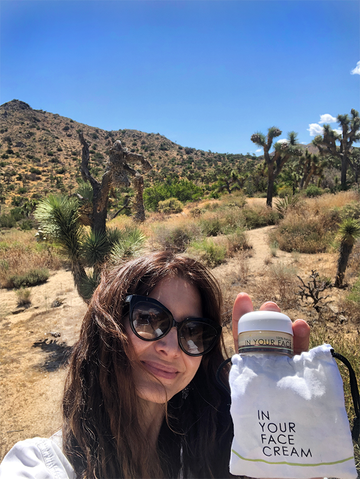 Then & Now
As I grew up and lived on my own I became an actress. The idea of paying half my paycheck for a designer face cream filled with chemicals just didn't make sense. But working in front of the camera demanded great skincare. I would get great DIY tips from top Hollywood makeup artists and Beverly Hills dermatologists. I continued my family's tradition and started making my own facial elixirs in my kitchen from crushed herbs, teas, oils, even fermenting my own fruits!
As I moved behind the camera as a professional photographer/director, I stared at skin all day through the microscope of telephoto lenses and bright lights. I became even more determined to find out what was keeping certain women's skin dewy and bright while other women, even younger, had skin that was wrinkled, blotchy, and dull.
This passion has resulted in the supercharged, toxin-free, botanically rich recipes of all the IN YOUR FACE products. Good skin comes from eating plenty of veggies, avoiding processed foods, drinking more water, and having people in your life who encourage your dreams! Consume less. Walk more. Let go of the past. Sever unhealthy relationships. Drink green tea. Sweat every day. Shut off the TV. Help someone. Smile at strangers…and use IN YOUR FACE SKINCARE!
SHOP NOW