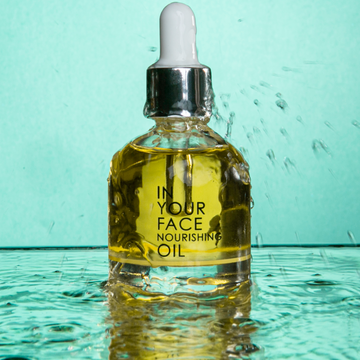 At IN YOUR FACE SKINCARE, we've always been dedicated to creating organic, effective skincare products that complement your body's natural processes to achieve your most healthy, glowing complexion yet.
Today, I'm here to talk to you about the incredible benefits of facial oil and why this hydrating product is an essential part of your collection. 
Read on to learn more about why your skincare routine needs a face oil!
FEEDS SKIN WITH ESSENTIAL NOURISHMENT
Face oils are typically chock full of essential oils and ingredients to leave your skin hydrated and feeling refreshed. 
These yummy skin-boosters are derived from plant-based oils, rich in omega fatty acids, vitamins, minerals, and even free radical-neutralizing antioxidants. 
Our NOURISHING OIL comes with cutting edge barrier-boosting antioxidants along with oils extracted from marula, camellia seed, argan, jojoba, evening primrose, and tamanu, which all come with their own host of beauty-boosting benefits - while keeping your skin safe and healthy.
For example, argan, marula, and jojoba oils all contain high levels of Vitamin E, one of the most potent antioxidants on the planet, to help protect against environmental pollution and UV radiation, which can lead to fine lines and wrinkles!
BOOSTS YOUR SKIN'S PROTECTIVE BARRIER
As the largest organ of your body along with being one of the only ones that's fully exposed to the world around you, your skin is going to need some protection to keep it healthy and radiant. That's where your natural moisture barrier comes in. 
This is the protective layer on the surface of your skin, made up of lipids and sebum, working together to prevent your skin from losing any moisture while protecting it from the environment around you. It's essential for maintaining that healthy, glowing skin I mentioned earlier! 
Unfortunately, the moisture thief, transepidermal water loss, is what we call it when water evaporates from our beautiful skin, leaving it parched, dull, and without protection. 
Face oils like our NOURISHING OIL protect that oh so important moisture barrier by adding another layer of moisture, locking it in to creating another layer of protection, helping prevent transepidermal water loss and keep skin from drying out. 
And if we know anything about our skin, we know it doesn't like to be dry. 
Preventing water loss is vital for keeping skin healthy and hydrated, and the plump, dewy radiance that comes with it are just added bonuses!
REDUCES VISIBLE SIGNS OF AGING
This one is my absolute favorite. 
Face oils have plenty of anti-aging benefits that grace your skin with the honor of minimizing fine lines and wrinkles. 
I've mentioned a few of the beneficial oils in our NOURISHING OIL and what they do for your skin, but when it comes to anti-aging, there's a few more I'd like to highlight for you. 
Tamanu, moringa, and argan oil, all found in our face oil, are great for anti-aging, improving skin's texture and tone while helping to smooth skin with the help of ingredients like fatty acids, antioxidants, Vitamin A, Vitamin C, and Vitamin E.
Combined in our NOURISHING OIL, these three ingredients moisturize and soothe while reducing inflammation, redness, and irritation and protecting skin from the age-accelerating effects of free radicals. 
These also contain behenic acid and saponins, both proven to boost skin's elasticity and reduce the appearance of fine lines and wrinkles. 
SOOTHES SENSITIVE SKIN
If you're one of the lucky many with sensitive or inflamed skin, facial oils like camellia seed oil and evening primrose are a gentle and powerful option, with anti-inflammatory properties that provide immediate relief to your delicate complexion. 
They work by reducing redness, inflammation, and irritation. By strengthening your skin's moisture barrier, these oils not only soothe and calm your skin, but they also help to heal and restore its natural balance.
As you know, most natural face oils are formulated with plant-based oils, fatty acids, vitamins, and antioxidants, all working together for your skin to keep it nourished and protected.
This is already a great method to help treat sensitivity, along with the fact that these oils reinforce your moisture barrier (which can already be weak with sensitive skin).
Our NOURISHING OIL also contains calendula oil, which contains anti-inflammatory ingredients to help reduce redness and irritation.
BALANCES SKIN'S OIL
When it comes to achieving balanced skin, face oils can really be a game-changer. It may seem a bit counterintuitive to use these if your skin is already oily, but with the right product and amount, this can actually help regulate your skin's oil production. 
Face oils replenish your skin's natural oils, which can be depleted by over-washing or using harsher products. 
By replenishing the oils, this helps to prevent skin from compensating for the loss of moisture by overproducing oil, which can lead to clogged pores and breakouts.
Our NOURISHING OIL is made entirely from plant-based oils, like lightweight, non-greasy jojoba and grapeseed oil, perfect for hydrating without feeling weighed down. 
Plant-based oils also happen to have a similar molecular structure to our skin's natural oils, meaning they'll absorb into your moisture barrier faster to prevent oiliness.
______________________________________________________________________
Facial oils are a powerful tool in your skincare arsenal to provide skin with nourishment, protection, youthful radiance, balanced texture/tone, and soothed skin.
If you're ready for a face oil but unsure of where to start, just click here to learn more about our NOURISHING OIL - and if you want it in the most ADORABLE little Bear jar (20% of the profits from which are donated to The Lawrence Anthony Earth Organization), click here. 
If you have any questions about our products or which ones are best for you, CONTACT US - but first, click here to take our SKIN QUIZ! You can also call us at (727) 286-7684, we'd love to hear from you.
XOXO,
Denice