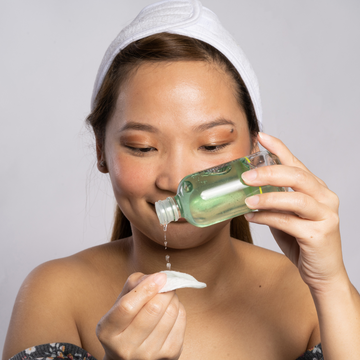 As the founder of a natural skincare company that knows the importance of keeping an even skin tone and a clear skin surface, I'm here to let you know that toners are VERY important… and I have five benefits to share with you.
So let's discuss the major benefits of toner and why you should introduce it into your skincare routine!
5 HUGE BENEFITS OF TONER
1. IT OFFERS INSTANT HYDRATION
Your skin is just like you - it needs water to survive and stay healthy! A simple way to give your skin effective hydration instantly is with a toner. Ideally, you should cleanse your skin, apply your toner, leave your skin damp, and then use your next product. This will give your cells an instant hydrating boost!
Leaving the toner damp on your skin will help lock in even more hydration and prevent moisture loss. Just make sure it's alcohol-free, like our CITRUS CUCUMBER TONER. Alcohols are extremely drying to the skin and will just make things worse.
2. IT REMOVES MINERALS AND CHEMICALS LEFT BY TAP WATER
Minerals, salts, chlorine, these are all used in tap water to keep it safe for bathing or drinking. These ingredients are safe for your body in small amounts but are very harmful for the surface of your skin. Think about it - have you ever noticed cloudy white dots on your dishes after rinsing them, or on the walls of your shower?
After cleansing and rinsing with tap water, that is what is left on your skin. Toner helps to remove this stuff, rinsing your skin after cleansing to leave it ready for the rest of your routine. 
3. IT BALANCES SKIN pH
Depending on what you use on your face, it's possible that the product's high pH (acidity) levels could be drying out your skin. Another huge benefit that toner brings to the skincare table is that it helps to counteract that dryness and balance your skin's pH levels. 
Yes, certain cleansers may do this, but far too many on the market have synthetic and toxic cleansing  agents that will dry skin out even further, leaving it feeling tight and dry to the touch.
Toners like our CITRUS CUCUMBER TONER use powerhouse ingredients like comfrey root to moisturize and soothe skin while minerals strengthen the skin's barrier to keep it balanced, hydrated, and healthy. 
4. IT CONTAINS SKINCARE ROUTINE-BOOSTING ACTIVES
Just like the comfrey root and minerals mentioned above, the best toners contain active ingredients that calm skin, balance skin's oil, infuse your skin with powerhouse antioxidants, prevent and fight breakouts, and more.
Moist skin also absorbs actives 10x faster than dry skin, so if you apply toner, leave your skin damp, and then apply the rest of your skincare routine, those active ingredients will penetrate deeper and give your routine a boost.
5. IT SUPPORTS YOUR MOISTURE BARRIER
Your moisture barrier is the outermost layer of your skin, made of natural oils that keep skin cells bound together, allowing skin to stay soft, soothed, and healthy. By keeping skin hydrated and feeding it the right nutrients, your moisture barrier will stay strong, retaining water and defending your skin against external toxins, like pollution and bacteria. 
Toner with the right ingredients will not just keep your moisture barrier intact, it'll provide plenty of support for a barrier that protects your skin morning to night. 
DENICE'S TIP: After doing a thorough cleanse the night before, freshen up in the morning with toner rather than another wash - this will keep your moisture barrier intact and leave your skin ready to absorb the rest of your skincare routine. 
Toner is a great way to boost your skin, regardless of skin type or concerns. It's important to find a toner that avoids synthetics and other toxic ingredients, along with one that is alcohol-free to prevent drying out your skin. 
Click here to check out our CITRUS CUCUMBER TONER - it's perfect for all skin types!
Thank you for reading this article and if you want to learn more about the best products for your skin type, take our SKIN QUIZ here. You can also CONTACT US here or call us at (727) 286-7684 with any questions, we'd love to hear from you!
XOXO,
Denice