INGREDIENTS
BLUE TANSY, THE NEW SKINCARE STAPLE: BENEFITS & HOW TO USE IT
denice duff Feb 22, 2023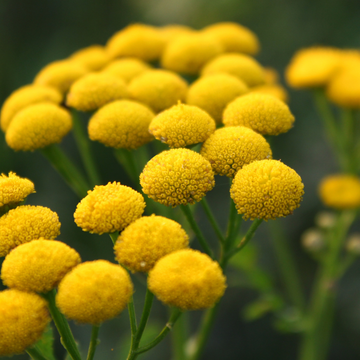 Blue tansy is becoming quite the skincare rockstar. Dermatologists and influencers alike agree that this magical blue ingredient is full of ENDLESS benefits for your skin, from nourishing and calming to healing and everything in between. 
Read on to learn more about this little wonder oil and what it can do for your skin - beyond its blue beauty!
WHERE DOES IT COME FROM?
Blue tansy is a yellow (yep, not blue) flower, native to Morocco, that turns deep blue during its steam distillation process thanks to its high levels of azulene. 
That azulene also has another great benefit… it's RICH in antioxidants and skin-soothing properties! Plus… this flower belongs to the chamomile family, so it shares many of the same benefits, like:
Anti-inflammatory properties

Soothing skin

Healing skin faster
Pretty great right?!
HOW DOES BLUE TANSY BENEFIT SKIN?
Now let's do a deep dive into this prized ingredient used in high-end skincare products, and the incredible skin benefits it holds. Blue tansy…
Is full of anti-inflammatories

that help with repairing skin, protecting from damage, reducing swelling, and reducing inflammation.

Softens the skin's texture

to leave it dewy, smooth, and emollient. 

Protects and heals skin from damaging UV exposure,

acne, and other environmental aggressors.

Is naturally antibacterial and antifungal

to support new, healthy skin during the cellular turnover process.

Works like an antihistamine

to soothe skin and reduce inflammation. 
See? Blue tansy is FULL of soothing and calming skin benefits, and is great for any skin type, especially those with a variety of skin conditions, including:
Eczema

Rosacea 

Psoriasis

Acne

Dermatitis
And the best part? It does it all naturally. 
"This gives me the dewy & glowy skin I've always wanted. Just a few sprays during the day is all my face needs. So #&@%ing good!" - Justine S.
"It's like aromatherapy meets hydration and protection!" - Marie D.
"I love the smell of this mist! It's so refreshing, and I love knowing it helps protect me from the effects of blue light." - Anne E.
As soon as we launched our blue tansy product, the positive reviews and testimonials came flooding in. 
These are real people that have experienced the benefits of calming blue tansy to relieve and soothe their skin, along with skin barrier boosting oat bran, intensely hydrating hyaluronic acid, pore minimizing niacinamide, brightening sea algae, and skin smoothing zinc PCA. 
With all of these ingredients in addition to the magical wonder of blue tansy, is it any surprise that this ultra-hydrating face mist is perfect for restoring a healthy, youthful glow while shielding against the negative effects of blue light from electronics?
After incorporating our alcohol-free BLUE TANSY HYDRATING FACE MIST into their routines, our customers have raved about the rejuvenating and soothing effects of this mist, reporting skin that's plumper, moisturized, and protected! 
Oh, and it makes a great setting spray for your No Makeup Makeup look.
Blue tansy has been a life-changer for so many, and we couldn't be happier to have our product in the mix. We knew it would be perfect in our skincare line thanks to the fact that it:
Fights irritation

Reduces redness

Nourishes skin with antioxidants

Invigorates skin at the cellular level

Comes in a beautiful deep blue :) 
This powerful wonder plant is making itself known all over the skincare scene, and it deserves to be a staple in everyone's routine! From aging to blue light protection and everything in between, blue tansy is the soothing botanical we've been searching for. 
Curious about which products are the best for your skin? Take our SKIN QUIZ, contact us here, or give us a call at (727) 286-7684 - we'd love to hear from you!
XOXO,
Denice