skincare tips
The 5-minute "no makeup" makeup look
denice duff Feb 18, 2022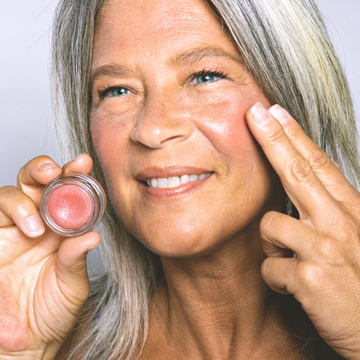 Need some inspo? Denice shows you how she uses MOISTURIZING WASH, NOURISHING OIL, COLOR and SHIMMER to create a natural, sun-kissed glow really quickly. Face it, we don't always have an hour in the morning to do a lengthy self-care routine. But that doesn't mean we can't look FABULOUS!
Re COLOR and SHIMMER, Denice says "I wanted to create easy pots of color that can sit on your bathroom counter and in your purse and be easy to use to add a touch of wake-me-up color and glow...on the go!"
Remember using your favorite lipstick to liven up your cheeks? Now you can confidently apply these universal makeup pots to your face knowing they contain only pure and natural ingredients. Only 10 to be exact, which is unheard of in the makeup industry!
SHIMMER is not only perfect for lips, cheeks and forehead, but it also gives a warm, luxurious glow to eyelids without the fuss of powdery eye shadows falling on your cheek during application.
About her skincare routine, Denice continued, "My routine, as many of you know, has always been fast. And as I've aged I've streamlined it...less definitely IS more! My Italian heritage has lovingly given me darker circles under my eyes, so a little concealer is pretty much the only foundation I wear. I like to let my natural skin glow through...age and all. But bringing that color back to my cheeks and lips makes ALL the difference...and now I can do it in a flash!" And so can all of us!