THE JENNA ELFMAN EDIT
"They are honestly TOTALLY incredible. I'm obsessed!!" - Jenna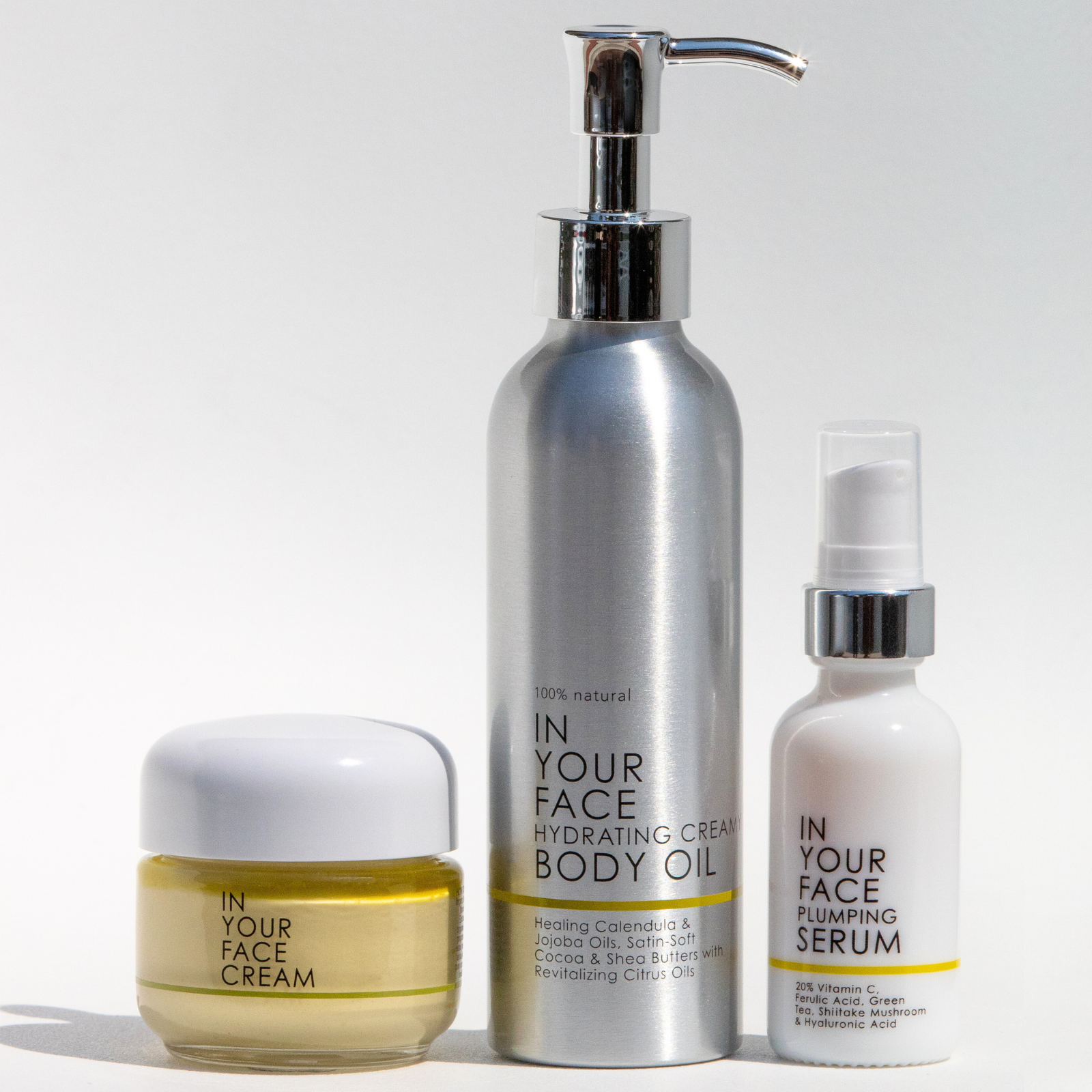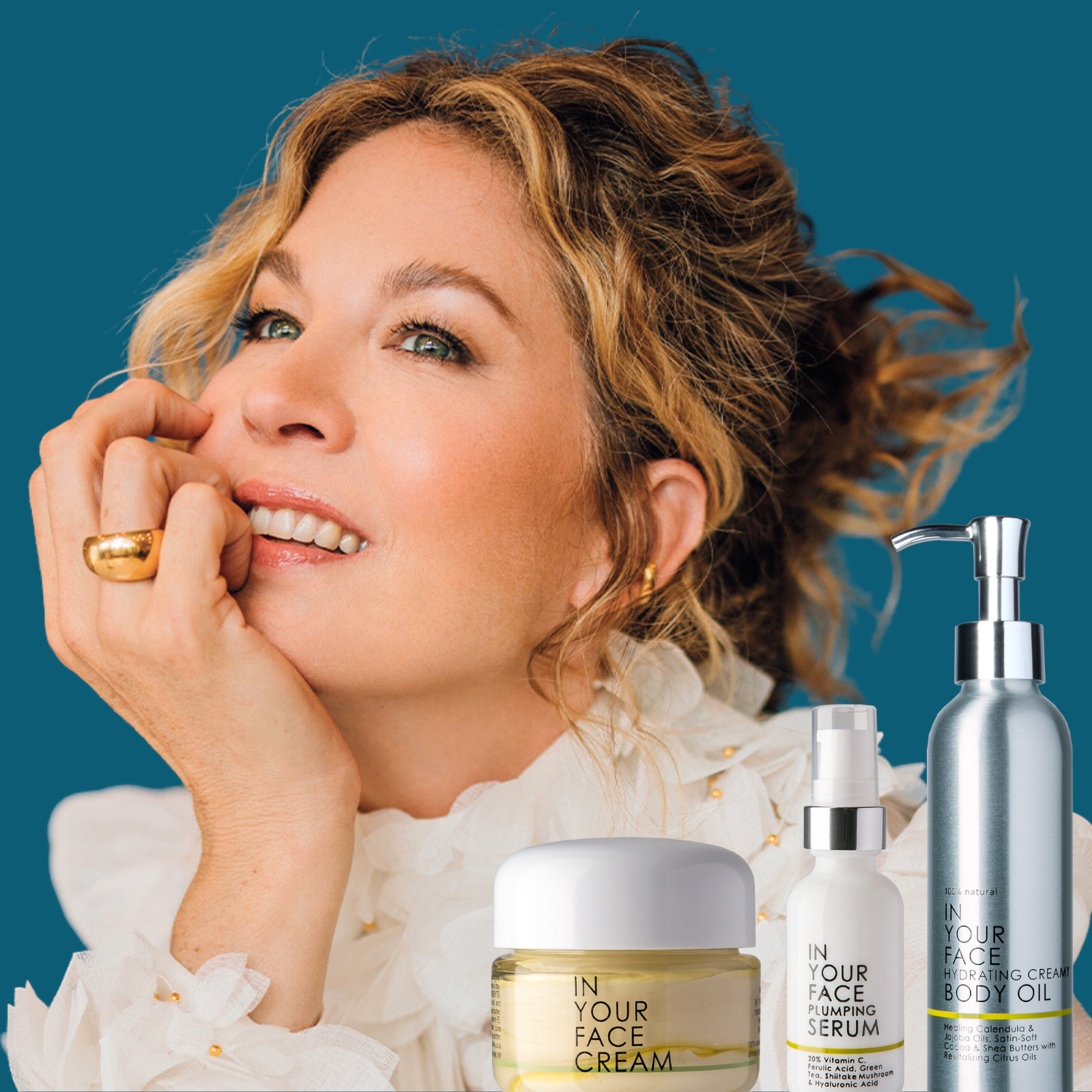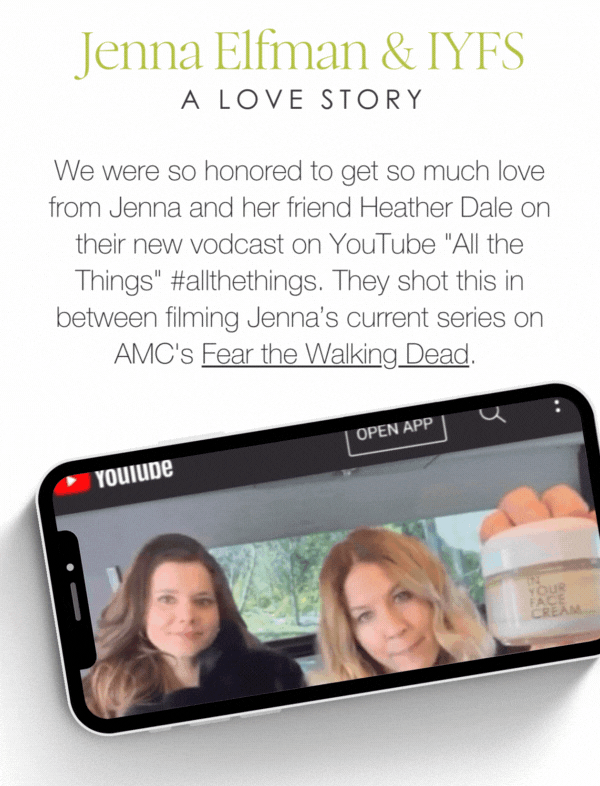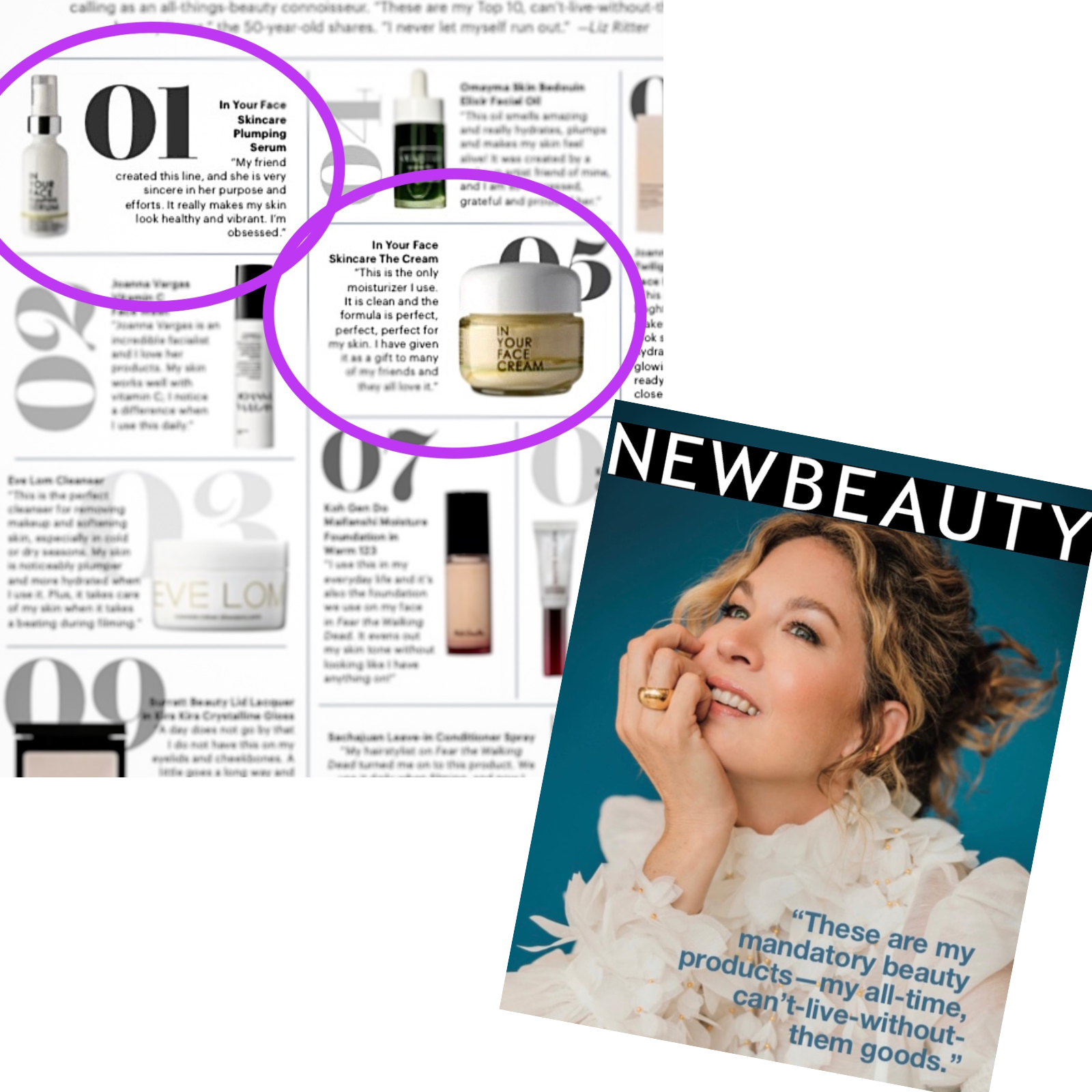 "They are honestly TOTALLY incredible. I'm obsessed!!" - Jenna
Elevate your skincare routine with our limited edition set of TV & Film Star Jenna Elfman's IN YOUR FACE faves. This transformative trio will leave your skin visibly radiant head-to-toe. Buy together and save 15%!
Translation missing: en.products.product.price.regular_price
$240.50
Translation missing: en.products.product.price.sale_price
Translation missing: en.products.product.price.regular_price
$282.94
$240.50

What's included:
✔ Our nutrient-dense CREAM enriched with collagen-boosting CoQ10 and firming DMAE
✔ Our PLUMPING SERUM, an age-defying powerhouse with brightening Vit C, Hyaluronic Acid, and Shiitake mushroom
✔ HYDRATING CREAMY BODY OIL, a nourishing head-to-toe elixir infused with healing Calendula & Jojoba Oils, Cocoa & Shea Butters, and Revitalizing Citrus Oils.
✔ Plus, our soft and skin-friendly, luxuriously-crafted HAIR WRAP & our zippered and water-repellent MAKEUP BAG!
This limited-edition trio includes Jenna's go-tos for a beautifully radiant complexion. It features THE CREAM, PLUMPING SERUM and HYDRATING CREAMY BODY OIL. Buy together and save 15%!
THE CREAM Full Ingredients List: Purified spring water, organic plant-infused oil of green tea and horsetail, olive oil, grapeseed oil, coconut oil, beeswax, shea butter, vitamin C ester (ascorbyl palmitate), jojoba oil, tocotrienols (vitamin E), alpha lipoic acid, coenzyme Q10, DMAE, buffered calcium, pure essential oils of lavandin grosso, geranium & ylangylang; lecithin, glucose oxidase & enzyme lactoperoxidase.
PLUMPING SERUM Full Ingredients List: Organic Aloe Barbadensis (Aloe Vera) Leaf Juice, Ascorbic Acid (Vitamin C), Cassia Angustifolia Seed Polysaccharide (Botanical Hyaluronic Acid), Kosher Vegetable Glycerin, Methylsulfonylmethane (MSM), d-Alpha Tocopheryl Acetate (Vitamin E), Ferulic Acid, Camellia Sinensis Extract (Organic Green Tea), Lentinus Edodes Extract (Shiitake Mushroom), Hamamelis Virginiana Water (Witch Hazel), Centella Asiatica Extract (Organic Gotu Kola), Equisetum Arvense Extract (Horsetail), Taraxacum Officinale Extract (Dandelion), Organic Fucus Vesuculosus (Bladderwrack), Simondsia Chinensis Oil (Organic Jojoba), Xanthan Gum, Citrus bergamia Oil (Bergamot Essential Oil), Citrus aurantium dulcis (Orange Essential Oil), Citrus Paradisi (Grapefruit Essential Oil), Citrus Reticulata Blanco Var Tangerina (Tangerine Essential Oil), Ethylhexylglycerin, Phenoxyethanol
HYDRATING CREAMY BODY OIL Full Ingredients List: Olive Oil, Calendula Plant Infused Oil, Apricot Oil, Grapeseed Oil, Jojoba Oil, Spring Water, Beeswax, Shea Butter, Cocoa Butter, Orange Essential Oil, Lemon Essential Oil, Tangerine Essential Oil, Pink Grapefruit Essential Oil, Lime Essential Oil, Lecithin, Gluconolactone & Sodium Benzoate (GSB).
THE CREAM Instructions:
Warm a very small amount between your fingertips to warm and activate the botanical oils. THE CREAM is velvety-rich and a little goes a long way!
Gently massage and press onto face and neck in upwards strokes.
Denice's Tips
You may notice a blush of color and a slight tingle as it revs up the skin's natural blood flow.
You can wear it during the day with foundation as a primer for a flawless finish or overnight for a super-hydrating repair treatment.
Massage any remaining CREAM onto the back of your hands and elbows (safe for eyelids and lips too!).
If it feels too thick, you're probably using too much!
PLUMPING SERUM Instructions:
Use on a clean face. Apply 1-2 pumps of PLUMPING SERUM onto the tips of your fingers.
Press/pat the SERUM gently into your face, neck, and décolletage.
Apply after cleansing but before moisturizing. Both day and night usage is recommended.
Denice's Tips
Apply the remainder onto the back of your hands (they need love too).



HYDRATING CREAMY BODY OIL Instructions:
Apply on dry or damp skin and massage over your entire body. Use daily as needed. External use only. All skin types.
SHAKE WELL before each use. Due to the artisanal method of production, slight separation of the natural butters and oils can occur.