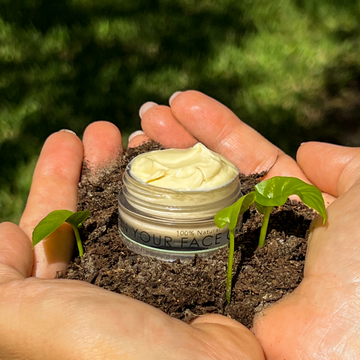 Now more than ever, people are caring about what they put into and onto their bodies - especially when it comes to their skincare.

Many people choose not to, citing the same problems everyone's faced and dealt with at some point in their lives - not enough time or not enough money. Well, fortunately, making your skincare routine more eco-friendly is much simpler than you might think…

From using natural ingredients, recycling packaging, and reducing the amount of product you use, we've put together a list of small changes you can make to your skincare routine to make a big difference. Keep reading to learn more:

KEEP AN EYE ON YOUR INGREDIENTS

Not that you don't already know this, but ingredients are the most important
thing to consider when looking at skincare products. Not only is this good for you and your skin, but it can also make for a much more sustainable routine.

Many modern skincare products use unsustainable and potentially harmful
ingredients in their formulas like plastics, palm oil, and synthetics. Plant-based oils and butters along with natural exfoliants are great alternatives that are gentle on your skin… and the environment!

Make sure to read the label when shopping for skincare products.

CONSERVE YOUR WATER

A LOT of water is used to make skincare products, which already is not the best
for the environment, and letting the water run freely during your entire skincare
routine just adds to that waste.

To try conserving water:

Use a bowl instead of continuously running water while cleansing your face. Fill it with water and use a clean washcloth (or one of our disposable, 100% biodegradable CLEANSING CLOTHS) and use only a pea-sized amount of cleanser.
When shaving, wet your skin and your razor to shave, instead of leaving the water on while shaving.
Turn off the water while exfoliating and turn it back on just long enough to rinse everything off.
Use a long-lasting moisturizer, like THE CREAM, that only needs to be reapplied once or twice a day, using just enough to cover your skin and not waste.

BUY FROM SUSTAINABLE BRANDS

When you shop from skincare brands that use sustainable practices, this is green for plenty of reasons. These brands are usually more eco-friendly, with much less of an environmental impact. This also supports the growth of sustainable skincare, which, in the long run, helps to make the world a better place!

USE A CLEANSING BALM INSTEAD OF MAKEUP WIPES

When it comes time to cleanse your face, it may be tempting to just buy a pack
of makeup wipes and call it a night. Not only can makeup wipes dry out your
skin and contain harsh, irritating ingredients, but they are also a far less sustainable option than other, greener solutions…

Like our MANDARIN MELT CLEANSING BALM! Oil-based cleansing balms use
natural, gentle ingredients to remove makeup, SPF, and other impurities while
soothing and nourishing skin, and our CLEANSING BALM is no exception.

P.S. You can also use our CLEANSING CLOTHS that I mentioned earlier… they're 100% biodegradable and rinse clean.

REUSE YOUR CONTAINERS

Sustainable living and reusing go hand in hand, and the same goes for your
skincare routine. Cleaning and reusing your eco-friendly skincare packaging is a
great way to help the environment and cut down on waste. Clean out your
empty jars and bottles (especially if they're made of glass!) and use them as
travel-sized containers for other products or store smaller items in them, like
beads or buttons.

USE REUSABLE BRUSHES/PADS

Finally, another small but impactful method to help reduce your impact on the
environment is to use reusable brushes and pads in your skincare routine. Not
only does this cut down on the amount spent on disposable products, it also
reduces the amount of byproducts and trash put back into the environment.

It may seem a bit overwhelming to make changes to your skincare routine, but taking the advice of even one thing on this list will help. By adapting your routine to include even more of these, your skincare routine will be even more sustainable while cutting down on the amount of waste you create.

If you have any questions about your skincare routine, feel free to take our SKIN QUIZ. You can also CONTACT US or give us a call at (727) 286-7684, we'd love to hear from you!

XOXO,
Denice