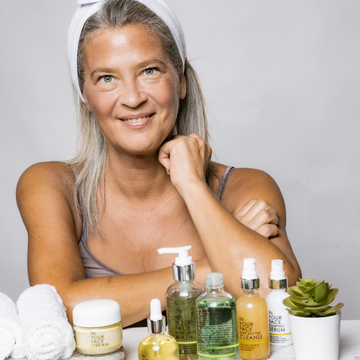 Have you been searching and  searching for the perfect ways to achieve clear skin, but are having a hard time finding the right options for you?
There are just so many different options out there. If you search "How to Get Clear Skin" on Google, you'll end up with over 2.73 BILLION results, and I don't need to tell you how overwhelming and confusing that can be, especially when many of these tips contradict each other. 
So I made it easy - here are some simple Do's and Don'ts for achieving clear skin!
DO - FIND YOUR SKIN TYPE
Before you can learn how to achieve clear, healthy skin, it's crucial to determine your skin type. This way, you're purchasing the right skin products for your skin, ensuring that your skin will be safe and prevent any damage or irritation.
Curious what your skin type may be? Click here to take our super short Skin Quiz! 
DON'T - OVER-EXFOLIATE
Exfoliating is great for renewing skin by removing dead skin cells and increasing your rate of cell turnover, but it should only be done once or twice a week to avoid robbing the skin of its moisture and leaving your face feeling rough, dehydrated, and flaky. 
Using a safe, plant-based exfoliator like our revitalizing salicylic acid and bamboo exfoliator, our BAMBOO REFINING POLISH, or our non-abrasive glycolic acid/fruit enzyme wash, our DEEP ENZYME CLEANSE.  
DO - USE A SERUM
When it comes to decongesting and minimizing clogged pores, it's important to find a lightweight BHA serum to help you do so without over-exfoliating and stripping the skin of its moisture. 
Our oil-free CLARIFYING SERUM contains salicylic acid to help unglue skin cells while boosting skin's healing properties, hydrating the skin, and soothing redness and inflammation. 
DON'T - OVERWASH
It may seem like the simplest part of your routine to wash your face, but it's important to only wash once or twice a day. Washing in the evening will remove all traces of the day from your pores, including dirt, makeup, sebum, or any other impurities.
Washing too frequently or too intensely can strip your skin of its moisture and lipids, breaking down your skin's microbiome and leaving you at risk of skin damage. Instead of overwashing, try using our GINGER MINT WASH in the evenings!
This all-natural wash is pH-balanced, chemical-free, and filled with refreshing mint, chamomile, ginger, provitamin B5, and comfrey to balance oily patches, unclog pores, and prevent future breakouts. 
DO - USE A SOOTHING TONER
Instead of washing in the morning after cleansing your skin the night before, try a soothing toner instead! These provide a gentle skin refresher, lightly cleansing and preparing your skin for any other products to follow without stripping your skin's moisture and damaging its microbiome. 
Our alcohol-free CITRUS CUCUMBER TONER provides a soothing, gentle skin refresher with the organic benefits of cucumber, comfrey, green tea, aloe, and more to remove impurities and keep your microbiome strong and healthy.
DON'T - LEAVE ON YOUR MAKEUP 
After a long and tiring day, you'll probably just want to crash down on the bed and get some sleep. And that's totally fine - just be sure to remove your makeup first! Forgetting to remove your makeup before bed will leave your pores clogged… Especially considering your makeup can mix with dirt and sebum. 
Our Manuka honey-infused MANDARIN MELT CLEANSING BALM, an emollient cleansing souffle that's perfect for removing built-up makeup and SPF, leaving skin feeling ultra-soft and looking radiant. 
DO - USE AN EYE CREAM
It's no secret that the skin around your eyes is extremely delicate and can be affected by dark circles, bags, dark eyelids, and more. That's why it's smart to introduce an eye cream into your routine to keep this area hydrated and strong, along with preventing signs of aging.
Our BOTANICAL LIFT EYE GEL is a wake up call for your eyes with niacinamide and caffeine to help tighten and brighten your delicate eye skin.
DON'T - TOUCH YOUR FACE
Between opening doors, touching our phones, tying our shoes… Our hands can be absolutely covered by dirt and germs throughout the day. And when you touch your face either by rubbing your eyes, stroking your chin, these dirt and germs combine and can both clog your pores and strip your microbiome. 
Avoiding touching your face as much as possible will help keep you from irritating your skin, clogging pores further, and stripping your skin of its protective oils and moisture.