INGREDIENTS
ROUTINE
BAKUCHIOL: A NATURAL, GENTLE RETINOL ALTERNATIVE
denice duff Jul 27, 2022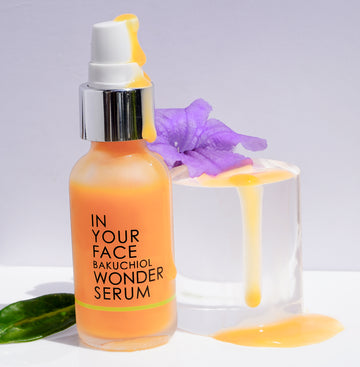 It's no secret that when we hit a certain age, Father Time is coming - and he's bringing wrinkles, crow's feet, and fine lines with him. Luckily, Mother Nature gave us exactly what we needed to fight him off! 
Many women choose to defend against Father Time with retinol. Retinol is derived from vitamin A and is often used to treat mature-looking skin concerns as well as breakouts and enlarged pores. It increases cell turnover, rejuvenating your skin, but many different retinoid products on the market can be harsh for sensitive skin types and can contain synthetics and toxins. Clinical studies have shown that the plant-based alternative to retinol, bakuchiol, delivers similar and gentler benefits without the potential of irritation, especially with sensitive skin.
You might giggle a bit when you hear the name, but bakuchiol is definitely a serious contender in the anti-aging game. This natural extract from the babchi plant helps with skin calming, healing, and soothing, thanks to its wonderful anti-inflammatory and antibacterial properties which significantly improve skin's hydration, lift, and glow without causing the peeling and drying effects that harsher retinoids can come with. 
Our BAKUCHIOL SERUM also includes amla extract, a Vitamin C-dense source of over 50 antioxidants to help with easing dry and flakey skin, fading discoloration, and even defending skin from premature aging. 
We've also added dermatologist-recommended purslane, a plant-based, anti-aging powerhouse ingredient loaded with omega fatty acids and healing glutathione to stimulate collagen production. 
This multi correctional retinol-alternative bakuchiol serum is loaded with powerful repairing ceramides hyaluronic acid. These anti-aging powerhouses help hold skin together and defend itself from external skin irritants like pollution and sun damage. Boosting ceramides and HA in your skin can even help with preventing or soothing dermatitis and eczema due to the fact that these anti-oxidants help retain moisture and encourage the production of lipids, calming skin and accelerating the natural repair process.  
How does it compare to our other serums you might ask? And can you still use other serums?
Answer: Yes!
PLUMPING SERUM
Our PLUMPING SERUM is an age-defying balance of moisture and defense,  containing Hyaluronic Acid and collagen-boosting Vitamin C at a 20% concentration to help visibly brighten skin and help diminish fine lines and wrinkles.  This potent serum also contains Shiitake mushroom extract, to target dark spots, dull skin, and even skin tone.
Both of these serums can be used day and night and followed with the rest of your skincare products.
CLARIFYING SERUM
Our CLARIFYING SERUM is a leave-on exfoliator with salicylic acid, extracted from 100% natural aspen bark which deeply penetrates the skin to quickly unclog pores, smooth wrinkles,  and even out skin tone. This unique ultra-lightweight elixir also contains anti-inflammatory calendula flower extract &  vitamin-rich Panthenol, B5 with soothing Comfrey Root to calm and minimize redness.
Suitable for combination skin, acne-prone, and mature skin.
Need help deciding?   
Take our skin type quiz.
A few questions will tell you exactly which product is right for you.
We hand-make each batch and use sustainable glass packaging - and it's also vegan, cruelty-free, and gluten-free!