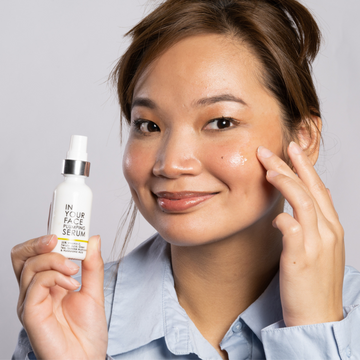 If you've spent any amount of time in the sun, there's a chance that you've experienced sun spots. 
These unsightly dark spots around your face and forehead are a skin condition that can leave you feeling self-conscious and ready to resort to drastic measures like synthetic products to take care of them!  But before you do anything, it's important to know why these happen in the first place.
What Are Sunspots?
Sunspots, like dark spots, are a form of hyperpigmentation. This just means that there is a higher concentration of melanin in the skin. They're usually due to exposure from the sun - but they can also come from hormonal shifts. 
How Do I Treat Sunspots?
In our experience, the best way to treat sunspots (or at least fade them) is to find natural skincare products with beneficial ingredients to help brighten your skin, like:
Aloe Vera
Aloe vera has been a trusted skincare product for generations. It has the uncanny ability to heal skin with the compounds of aloin and aloesin, which can fight hyperpigmentation and help fade dark spots, along with helping reduce inflammation and redness.
Vitamin C
Vitamin C is a natural antioxidant, meaning it fights against age-accelerating free radicals that can find their way through your moisture barrier and into your skin. Plus, Vitamin C naturally boosts your skin's collagen production, brightening skin and lightening sun spots while keeping your skin smooth and bouncy. 
Vitamin E
Vitamin E is another natural antioxidant that has had positive impacts on sun and dark spots… and protects your skin from further damage!
Glycolic Acid
Glycolic acid is one of the best ingredients for combatting hyperpigmentation. This is because glycolic acid is an exfoliant that helps to "unglue" dead skin cells and renew your skin. It's one of the best ways to get even-toned skin. Glycolic acid is actually a part of another set of ingredients that help with hyperpigmentation…
Alpha Hydroxy Acids
Just like glycolic acid, alpha hydroxy acids are a family of natural ingredients that work to naturally exfoliate and remove dead skin cells while moisturizing, treating acne, improving acne scars, and smoothing out skin. 
Now That You Know WHAT, Here's HOW
Now that you understand the different natural ingredients that can help with hyperpigmentation and fading sunspots, it's important to find HOW to get these ingredients into your skin. 
That's where our POWER GLOW PAIR comes in. It includes our DEEP ENZYME CLEANSE and PLUMPING SERUM, two of our best-selling products for resurfacing and brightening your skin - especially sun spots and hyperpigmentation. And when you buy them together as a duo, you get a discount!
Our DEEP ENZYME CLEANSE is our non-abrasive, exfoliating glycolic acid and fruit enzyme wash that naturally helps shed built-up layers of dead skin cells, helping produce radiant, healthy-looking skin and literally melt away visible signs of aging into a youthful glow. 
Our PLUMPING SERUM is a rich balance of moisture and defense. Highly concentrated, this Vitamin-C and Hyaluronic Acid packed blend of multi-action botanicals and supercharged vitamin compounds, targets dull skin, dark spots, and the first signs of aging leaving your skin looking radiant, repaired, and refreshed.
So click here to check it out and if you have any questions about your skincare, hyperpigmentation, or getting rid of sunspots, just click here to contact us today!
XOXO,
Denice