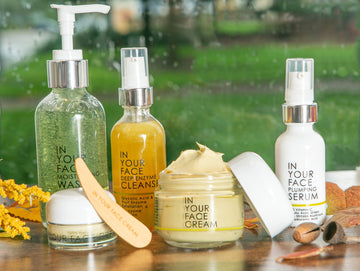 When the seasons change, our skin tends to change too - like switching from summer to fall, which can bring dryness, dullness, and dark spots.

The risk of breakouts can even increase during the fall season. No matter what the skin condition is, though, it's important to make some adjustments to your routine.

Here are six simple ways to update your routine from summer to fall.

1. BOOST YOUR CLEANSER

With dropping temperatures and less oil production in your skin, you can add extra hydration to your cleansing routine to avoid stripping your skin of its natural oils and moisture. Our MOISTURIZING WASH is a perfect year round cleanser and becomes a rich hydrating cleanser with a few drops of our antioxidant rich NOURISHING OIL. For makeup removal or double cleansing, our oil-based MANDARIN MELT CLEANSING BALM gently removes even long-wear makeup and waterproof mascara gently and easily. 

2. USE A RICH MOISTURIZER

Lighter moisturizers, like our MARINE PEARL CREAM, are good for the summer humidity and the sweat/oil that come with it. But when the temperatures start to drop come fall, you may need the rich, anti-aging "cocooning" quality that our original CREAM provides. Our velvety CREAM infuses your post-wind, post-cold skin with lasting, natural hydration.

3. USE SPF TO PROTECT YOUR SKIN

SPF is still very important in the Fall.
We tend to think that the colder the temperature, the less harmful the UV rays - but actually there are two kinds of UV rays, UVA and UVB. While UVB rays, the rays that cause tans and sunburns, are strongest in the summer, UVA rays, which can cause skin cancer and premature aging, are strong all year long.

So…sun protection. Every day. Stick to a mineral-based SPF of at least 30, like our MINERAL TINT SPF 30.

4. DON'T FORGET TO EXFOLIATE

Exfoliation is a crucial step all year round. It helps remove dead skin cells to promote cell turnover, removing excess oil, and preventing breakouts. During the summer, more sensitive skin types may want to cut back a bit on exfoliating to avoid irritation. But when the cooler temperatures start again in the fall, try exfoliating once or twice a week with DEEP ENZYME CLEANSE  to smooth & brighten skin from the summer sun.

5. SWITCH UP YOUR FACE MASK

If you typically use a gel mask for hydration, you may want to consider switching to a richer mask, such as PUMPKIN ENZYME MASK or our BLUEBERRY BOOST MASK. Our cream masks contain natural oils to balance and moisturize while cleaning pores and providing gentle exfoliation - perfect for fall!

No matter the season, your skin and body need to constantly change and adapt to it. For a head start on maintaining your glow during the fall season, stick to these tips above and, of course, pay attention to your skin. Watch for tightness, dryness, sensitivity - all of these are signs that your skincare routine is doing you more harm than good.

Need some help figuring out which of our products are best for your skin type? Take our SKIN QUIZ! You can also CONTACT US with any question you may have or call us at (727) 286-7684.

XOXO,
Denice