ROUTINE
Step-by-Step Skincare Routine #2: TONE
denice duff Aug 31, 2021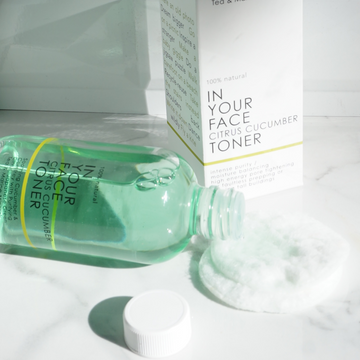 The next step after cleansing the skin is toning. A toner
helps remove the last traces of dirt, pollution and makeup
left on the skin after cleansing. It restores the skin's natural pH balance and
increases absorption of the serums and moisturizers
you put on in later steps of your skincare routine.
We got you covered with our 
CITRUS CUCUMBER TONER:
 a 100% natural, alcohol-free toner infused with soothing cucumber & comfrey with purifying citrus, Japanese green tea & marine minerals. It immediately improves skin's moisture and pH balance while prepping skin for maximum absorption of serums, creams, and oils. Perfect for all skin types!
● Restores skin's natural pH. Toners help restore skin to its natural pH of 4.5-5.5 so it's better protected. 
● Toner can replace washing. Washing twice a day can be harsh on your skin. Try washing at night and just using toner with a cotton round in the morning.