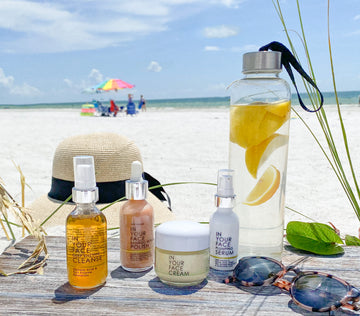 Whether you're on a luxury vacation or counting down the minutes until Friday at 5:00 PM, there is one thing you can't afford to ignore this summer:
Your skincare routine! 
Skincare is something everyone should take seriously, all year. It keeps your barrier healthy to keep you protected, locks in moisture to keep your skin hydrated, and brightens your skin for a luminous glow. But when it comes to summer, your skincare routine is extra important. 
Summer is a time of joy and fun, but between the sun, sunscreen, and sweat, it, unfortunately, can also be a time that wreaks havoc on your skin. 
Here are five tips for creating the Perfect Summer Skincare Routine:
1. Lighten It Up 
It may seem like a good way to keep your skin safe, but don't overdo it during the summer. It's a lot more humid and hot outside during these months, so it's important to focus more on the lighter cleansers and moisturizers to protect the outermost layer of your skin. 
Our MOISTURIZING WASH is a refreshing blend of sulfate-free cleansing agents that effectively cleans the skin without stripping its essential moisture barrier.
2. Don't Forget to Exfoliate
Exfoliating is always important, but during the summer is the best time to really make sure you exfoliate your face and body! This will get rid of dead skin cells while making room for new cellular growth to truly give you a rejuvenated, radiant appearance. 
Our DEEP ENZYME CLEANSE is a 100% natural, non-abrasive exfoliant powered by pineapple fruit enzymes to shed all of the build up from your summer day, like dirt, SPF, and sebum. Watch those impurities melt away and leave you with a radiant glow!  
3. DON'T FORGET SUNSCREEN 
This may not be a big surprise, but sunscreen is pretty important for your skin - especially during the summer. You need to make sure you wear it each and every time you spend a lengthy period of time in the sun… A mineral-based SPF 30 sunscreen on your exposed skin will protect your outer layer from damaging UV rays - just don't forget to reapply!
4. Hydrate, Inside and Out!
Here's something you may or may not know: Hydration is really important. Crazy, right? Seriously, besides using lightweight moisturizers to keep your skin hydrated, you need to make sure you're drinking plenty of water during the hottest months of the year too to hydrate from the inside out. After all, that intense summer heat makes it all too easy to get dehydrated!
Looking for a moisturizer that's perfect for all skin types? Our CREAM may be velvety-rich, but the natural, high-quality ingredients inside are necessary for feeding your skin the right foods to keep it hydrated and healthy. Just make sure to use a TINY amount - a little goes a long way! 
5. Skip the Long Showers
Due to the hot weather, chlorinated water, salt water, and everything else that can clog your pores during the summer, it's normal to want to take longer showers during the summer or to even take multiple showers a day. But too much hot water can strip your skin of its natural oils, leaving you feeling dry and leaving your skin ready to absorb more harmful chlorine. It can also leave skin inflamed. Shorter showers or showers with cooler water can help keep your skin from overdrying!
By creating a summer skincare routine with the help of IN YOUR FACE SKINCARE's rejuvenating products, you'll be able to keep your skin nourished and protected all summer, leaving you radiant and youthful come fall!