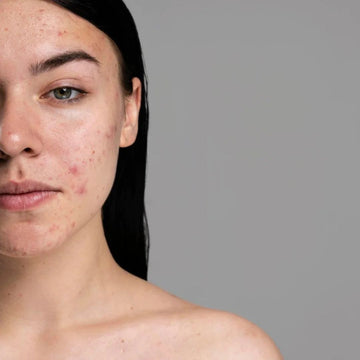 We've all been there, haven't we? That pimple is finally gone, and your face can return to its smooth, poreless look - but now there's a red, pink, or brown mark left in that blemish's spot. 
These may last a while and can be pretty frustrating to notice, but hope is out there. Just a little patience (and some organic skincare products) is all it takes to fade those acne scars or marks. 
From prevention to treatment, keep reading for our step-by-step guide on how to handle these annoying spots: 
STEP 1: FIND THE PROBLEM
Here's some good news. Acne scarring is NOT permanent - in fact, what most people think is scarring is actually just superficial spots on the skin! These are typically caused by inflammation (likely from pressure from acne) that leads to an overproduction of skin pigment. You may feel disappointed and discouraged when noticing these spots, but they will actually fade on their own within three to six months - but there are a few ways to speed up this process. It just takes the right skincare products. 
STEP 2: USE TARGETED PRODUCTS
POWER GLOW PAIR
This pair is a powerhouse… the POWER GLOW PAIR! And it's also your main defense against acne marks and superficial scars. Use our PLUMPING SERUM twice a day, in the morning and at night (for a healing boost, layer with our CLARIFYING SERUM). Once or twice a week, at night, use our DEEP ENZYME CLEANSE before using our PLUMPING SERUM to really target those dark and uneven spots left behind from acne. This blend of radiance-boosting technology removes dead skin cells while boosting your skin's ability to naturally fight the hyperpigmentation process, minimizing discoloration and even reducing the appearance of existing dark spots.
Ingredient highlights:
Pineapple Bromelain, loaded with active fruit enzymes and glycolic acid (AHA) to exfoliate, reduce the appearance of discoloration in acne scars and even reduce the appearance of raised or crater scars as well. 
Ascorbic Acid, the most powerful form of Vitamin C, to brighten the appearance of skin and help build collagen, improving the appearance of dark spots and physical scarring.
GINGER MINT WASH
For people with oily, acne-prone skin, our all-natural GINGER MINT WASH is a great option for daily cleansing. This rejuvenating burst of silky softness gently cleanses with aloe, chamomile, and cucumber without stripping the skin of its natural oils or moisture, promoting the skin's natural healing process while fighting against future acne. When cleansing, apply to damp hands, emulsify to a light lather, and massage onto your face and neck for two to three minutes before rinsing thoroughly. 
Ingredient highlights:
Ginger Root Oil to improve skin's elasticity, tone, and healing process while boosting cell turnover to improve the appearance of acne scars.
Panthenol with Provitamin B5 to deeply hydrate and lock in moisture, keeping skin youthful and dewy while diminishing acne scarring.
CLARIFYING SERUM
Salicylic Acid is considered one of the strongest defenses against acne scars, working wonders to help soothe, calm, and repair skin. Luckily, our CLARIFYING SERUM is powered by this natural ingredient, sourced from Aspen Bark, for maximum results, leaving you with healthy, glowing skin. After cleansing (and exfoliating, depending on the time of the week) apply a thin layer of our serum over your freshly cleansed face and allow it to dry. For a healing boost, layer with our PLUMPING SERUM.
Ingredient highlight:
Aspen Bark with Salicylic Acid (a BHA) to unclog pores, brighten, and smooth skin, diminishing the appearance of dark spots and reducing swelling and redness.
BAMBOO REFINING POLISH
As we mentioned above, exfoliating once or twice a week with a gentle exfoliator is crucial. It removes the layer of dead skin cells on the skin's surface to prevent new breakouts. Our BAMBOO REFINING POLISH takes it a step further by including Salicylic Acid from Aspen Bark (just like our CLARIFYING SERUM) to renew your skin for a finer, healthier texture and reduced pores. Two or three times a week, after cleansing (BEFORE applying serums) apply two droppers and gently massage in circular motions on dry skin, avoiding the eye area. Add a touch of water on your face and continue massaging, focusing on dry, congested areas. Rinse with lukewarm water and a washcloth. For a deeper exfoliation treatment, mix our DEEP ENZYME CLEANSE or one of our MASKS with the POLISH and leave on for three to five minutes.
Ingredient highlight:
Green Tea with antioxidant, anti-inflammatory, and antimicrobial properties to reduce skin irritation, redness, and swelling, as well as polyphenols to control the production of sebum.
CITRUS CUCUMBER TONER
When skin is unbalanced and dehydrated, it can lose its elasticity and even become itchy over time - this is especially true for scar tissue. Our CITRUS CUCUMBER TONER is a great way to combat this, offering a boost of moisture after cleansing to keep skin refreshed and healthy while targeting dark spots and scars. Dampen a cotton pad with our CITRUS CUCUMBER TONER and sweep all over face and neck. Use daily after cleansing, or as a midday refresher. 
Ingredient highlight:
Aloe Vera to reduce the appearance and irritation of acne and acne scars, thanks to its antibacterial and anti-inflammatory properties.
STEP 3: SOME LIFESTYLE TIPS
Wear sunscreen
When scar tissue is exposed to the sun, it's at a higher risk of hyperpigmentation, leading to dark spots and other acne "scars." That's why wearing sunscreen, preferably a mineral-based SPF 30, will keep your skin from darkening, keep it protected from UV damage, and allow acne scars to heal. We recommend TropicSport for your SPF needs.
Give your skin a break!
This shouldn't be anything new, but it definitely should be repeated: DON'T PICK AT YOUR SKIN! Picking at blemishes can cause more inflammation and even infection, which can increase your risk of scarring.
Make sure to give your skin some extra TLC
If you're prone to acne and are worried about scarring, the best thing to do is treat your existing acne properly and take steps to prevent it in the future. The best way to do so? With a great skincare routine made of natural, effective products from IN YOUR FACE SKINCARE. 
Not sure which products are right for your skin? Click here to take our Skin Type Quiz and find out what's right for you!