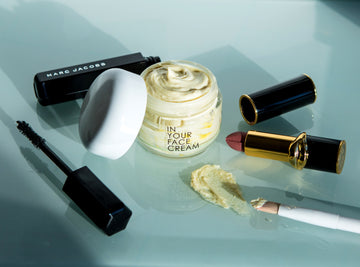 We've all done it. Nearly every woman has gone to bed without taking off their makeup once or twice. Whether it was a rough day at work or a night out on the town, it happens from time to time. That's okay! Forgetting to remove your makeup before bed once or twice isn't that big of a deal, but if you make this a habit, it might be. 
Why Should I Take Off My Makeup Before Bed?
There is a laundry list of negative effects that can come from leaving makeup on overnight, like:
Breakouts
It's important to take off your makeup before bed - makeup and other impurities accumulate throughout the day and if you don't melt them away from your pores, they can clog and end up irritated and inflamed, eventually leading to breakouts. And no one enjoys those, especially during the summer.
Overall Skin Health
Forgetting to remove your makeup before bed is vital to keep your skin healthy and balanced. Sleeping is like a nightly renewal process, increasing blood flow and rebuilding collagen to repair the damage from the day.
When you sleep in makeup, you don't give your skin a chance to renew. This can leave your skin looking dull and tired when you wake up in the morning instead of refreshed and glowing!
Eye Health
One negative impact of sleeping in makeup that many people don't consider is that while you sleep, makeup particles, like mascara, can actually get into your eyes and cause irritation or infection. Long story short - this can affect your vision and cause more problems down the line, so definitely avoid it.
Future Makeup
Without good skincare, flawless-looking makeup can be much harder to achieve. When you effectively cleanse every day, you give your skin a healthy and even base for makeup. That way, your next round of foundation will go on smoothly and easily, helping you look fresh-faced and invigorated.
Your Bedsheets
Makeup rubs off pretty easily on your pillowcase and sheets while you sleep. This isn't just messy and leaves you with stained bedding… it can also cause your bedding to accumulate bacteria and oils over time, which lead to breakouts and inflammation - even if your face is clean when you go to bed. 
So, to make a long story short, it's probably a good idea to take off your makeup before bed. Just make sure to use the right cleanser to do so. Makeup removers may seem like a cheap and easy way to do so, but these can be made with chemicals and ingredients that dry and irritate your skin.
The ideal way to melt away makeup and SPF before bed is with a Double Cleanse. Our DOUBLE CLEANSE DUO includes our 
MANDARIN MELT CLEANSING BALM, an oil-based cleanser that instantly dissolves dirt, makeup, and SPF from clogged pores while nourishing your skin with Sea buckthorn fruit oil, Manuka honey, and Vitamin E. 
It also includes our MOISTURIZING WASH, a lightweight, PH-balanced gel cleanser loaded with natural, effective ingredients like seaweed, green tea, and chlorophyll. It removes residue from your first cleanse while drawing out any remaining sweat and dirt, leaving you feeling truly 
bright, clean, and refreshed.