ROUTINE
All About Slugging: Build Your Protective Barrier, Overnight
denice duff Jul 08, 2022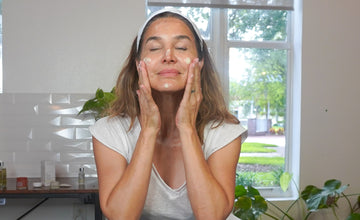 Many people think that any trace of oil on their skin will immediately lead to a breakout - but this just isn't true.
Sure, excess oils left on your skin can lead to breakouts, but if you end up cleansing so vigorously that you remove all traces of oil, you could be stripping your skin of its natural barrier. Instead of actively removing your barrier, you should be building it - and one K-beauty trend is making this easier than ever.
Slugging
It's called slugging, and it involves coating your face in petroleum jelly or another occlusive moisturizer. As the final step in your nighttime routine, slugging leaves your skin hydrated through the night while boosting the benefits of your other skincare products. 
Slugging has become more popular in recent years thanks to social media, but the truth is that cultures have been doing this for decades. Its ultimate goal is to lock in hydration, building up your barrier and keeping it insulated to protect it from moisture loss. When you cocoon your face with an occlusive moisturizer, you are helping to keep the good stuff IN and the bad stuff OUT - it helps prevent up to 99% of water loss!
How Often Should I Be Slugging?
This completely depends on your skin type and skin concerns. For dryer skin, slugging several times a week is a good place to start - you may even benefit from daily slugging. For oily skin, you may benefit from even less. For those with particularly oily skin, you may consider only slugging during the drier parts of the year, like the winter months.
Everyone has a different skin type - it's important to try slugging to see how your skin reacts before deciding how often you should and how much moisturizer you use.
How to Start Slugging
Ready to add this K-beauty trend to your skincare routine? Follow these steps:
1. Cleanse
With every skincare routine, it's crucial to start with a face cleanse. Apply one to two pumps of our refreshing MOISTURIZING WASH, emulsify, massage onto dry face, and rinse with warm water and a washcloth for an antioxidant-rich clean that leaves your moisture barrier intact. 
If you prefer to double cleanse, our DOUBLE CLEANSE DUO involves starting with our MANDARIN MELT CLEANSING BALM to gently melt away dirt, sebum, and SPF, followed by a cleanse with our MOISTURIZING WASH. Double cleansing provides a spa-quality deep clean while maximizing absorption of skincare products to follow. It's a win-win!
2. Treat With a Serum
Slugging is about hydrating in layers. So, after cleansing, apply our PLUMPING SERUM with hyaluronic acid to allow moisture to penetrate and lock-in. Apply one or two pumps and gently pat the serum into your face, neck, and décolletage. 
3. Get to Slugging
Instead of Vaseline or other chemical-filled petroleum jellies, combine a drop or two of our NOURISHING OIL with a bit of THE CREAM. Remember, THE CREAM is velvety-rich and a little goes a long way, so warm a very small amount between your fingers. Gently press and massage onto your face and neck in upward strokes. Combining these two products will give you a slugging experience like no other. The botanical antioxidants, organic phytonutrients, and highest-quality pure oils work together to provide the moisturizing benefits of slugging while also balancing, feeding, and calming your skin. Instead of just moisturizing, they moisturize while providing skin health benefits!
4. Wake Up & Wash for a Fresh Glow
After waking up in the morning, a gentle cleanse with our MOISTURIZING WASH will help remove any traces of THE CREAM, leaving you with beautiful, glowing skin to start your day!