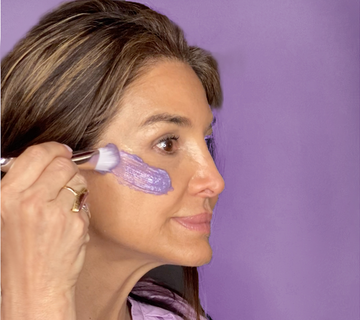 You've definitely heard it said before that beauty is only skin-deep, right? 
Now, I'm not talking about "inner beauty" here. Yes, being a kind, generous, and loving person will leave you beautiful on the inside, but when it comes to taking care of your skin and looking your best, beauty really is skin-deep! But if your skin is dull, uneven, or dry, it's important to repair and sometimes even regenerate these cells to leave you with a healthy complexion. 
YOUR SKIN 
Just like any other living thing out there, your skin is made of billions of interwoven cells that help it function! Natural compounds like collagen, proteins, and elastin form the three layers of the skin - the epidermis, dermis, and subcutaneous layers. Stressors from your environment, lifestyle, nutrition, and more can all cause damage to these cells, leaving our skin's ecosystem out of balance and causing visible reactions like dark spots, fine lines and wrinkles, inflammation, dryness, redness, and more.  
CELLULAR REPAIR AND GENETICS
We're all unique individuals with our own genetic makeup. This means our skin also behaves and reacts differently than others. Genetics can affect the size of your oil glands, the amount of melanin in your skin, and your skin's lipid content. These directly impact the way your skin reacts to stressors, especially sun damage. Genetics play such an important role in your skin health, different ethnic groups are naturally better equipped to protect against UV damage. 
YOUR LIFESTYLE
When it comes to taking care of your skin, genetics are not the only factor to consider. Our appearance is directly related to our lifestyle! Diet, sleep, exercise - they all impact the hormones in your body. When directed positively, however, they can influence the way our genes function, protecting our skin and molding it into the best version of itself. 
REPAIR OR REGENERATE? 
So now that you know a bit more about your skin and the different factors that influence it, you're ready to prioritize a balanced, healthy complexion. So how should you start - with cellular repair or regeneration? 
How about a healthy balance of the two? A proper skincare routine with regular cleansing, exfoliation, and hydration is the best way to find a balance between cell repair and regeneration. 
The important thing here is to boost your rate of cell turnover - which you can do through regular skincare and exfoliation! This helps antioxidants work their magic and neutralize free radicals, those nasty compounds that increase cell aging and can cause potential health issues. The increased rate of cell turnover also can help stimulate collagen production and fight those signs of aging, like wrinkles and fine lines. 
Just be sure to only exfoliate a couple of times a week - exfoliating too much can damage your skin's barrier and even lead to sensitivity, redness, irritation, inflammation, and photosensitivity. In the market for a gentle, yet effective exfoliator? Well, guess what? We have FOUR! They're our PUMPKIN ENZYME MASK, BLUEBERRY BOOST MASK, BAMBOO REFINING POLISH, and DEEP ENZYME CLEANSE.
PUMPKIN ENZYME MASK -
Featuring resurfacing pumpkin, pineapple, papaya, and AHA acids along with clarifying willow bark and kaolin clay, this mask "unglues" dead skin cells while addressing oily patches and purged pores. Reveal brighter skin and minimize fine lines with dermatologist-tested natural ingredients!
BLUEBERRY BOOST MASK -
Packed with omega-rich avocado, mango, and grapeseed oils while combining the polyphenol antioxidant power of organically-grown blueberries with white tea, exfoliating fruit acids of papaya and apple, and collagen-boosting blue butterfly pea flower, this is a spa-quality treatment you can do at home! Best for combination, dry or stressed skin.
BAMBOO REFINING POLISH -
Purify and revitalize skin's appearance while greatly reducing clogged pores and removing dead skin with the help of 100% natural salicylic acid, bamboo, aloe, green tea, rosehip seed, and kaolin clay. This superfine, gentle polish can stimulate blood circulation, encouraging skin renewal, reducing the appearance of fine lines, and leaving your complexion smoother and hydrated.
DEEP ENZYME CLEANSE
- Our non-abrasive, exfoliating glycolic acid and fruit enzyme wash naturally helps shed built-up layers of dead skin cells, helping produce radiant, healthy-looking skin with the natural power of glycolic acid fruit enzymes, pineapple bromelain, grapefruit, our proprietary blend of amino acids, and green tea! These high-quality, natural ingredients have been selected for the strict mission of unclogging pores, loosening dead skin cells, and dramatically renewing the skin.
Each of these products is formulated from the highest quality actives and clean plant-based ingredients to gently remove dead skin, encourage collagen production, and boost hydration, boosting your body's natural healing and regenerating processes! 
We all can take care of our cells and keep them healthy, and even course-correct when things go wrong, but without a good, consistent skincare routine with weekly exfoliating, our skin may never be as bright as we want it to be!