INGREDIENTS
The Game Changing Ingredient
denice duff Jun 01, 2020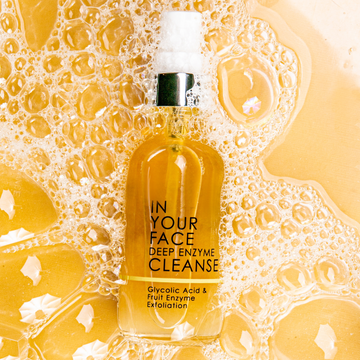 Vogue Magazine calls it "The Game Changing Ingredient".

What is this Miracle Skincare Must-Have?

Glycolic acid.

Glycolic acid is a type of alpha-hydroxy acid (or AHA) that's derived from sugar cane. Similar to other acids you know, such as lactic acid (made from sour milk and known as a favorite of Cleopatra), this ingredient can also tackle hyperpigmentation, dullness, and signs of skin aging, such as lines and wrinkles, without breaking a sweat.

AHAs have a lower molecular weight and therefore make it easy to penetrate the skin and help rebuild collagen and even skin tone. 
Glycolic acid stimulates the fibroblasts in the skin to produce increased amounts of collagen which helps skin feel firmer and minimizes fines lines and wrinkles.
Our non-abrasive, exfoliating glycolic acid and fruit enzyme DEEP ENZYME CLEANSE naturally helps shed built-up layers of dead skin cells, helping produce radiant, healthy-looking skin. It's like a 2-in-1 exfoliating cleanser & resurfacing mask.
Use two to three pumps 2-3 times a week. Leave on for 5 minutes for a gentle radiant glow! Staying committed to this treatment routine will help you experience the noticeable benefits.
Denice's Tips
1) If you have unbalanced skin prone to oils and dry patches with enlarged pores or frequent breakouts, try adding a pinch of dry oatmeal, or a pinch of fine sugar to 2 -3 pumps of the 
DEEP ENZYME CLEANSE
. Form a paste and gently massage all over face, concentrating on clogged areas like nose and forehead and don't forget to exfoliate that kisser of yours (and no worries, the sweet all-natural ingredients of this is even safe enough to lick!) 😉
2) You can also put the DEEP ENZYME CLEANSE on before you work out! It dries clear so no one will see it. The natural heat worked up by your body will help activate the enzymes as you sweat. When you finally rinse off, you'll feel super clean and soft!
So many uses for this delicious formula, like a beautifying kiss from Mother Nature!