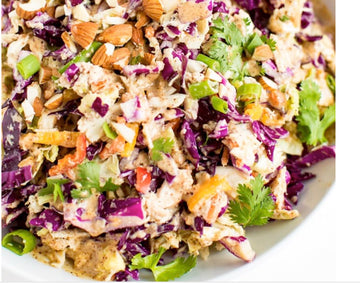 Purple cabbage is real nutrition powerhouse:
Cabbage in general is a nutrient dense vegetable but the purple variety is richer in beneficial plant compounds that have been linked to health benefits, such as stronger bones and a healthier heart and protect against certain types of cancers. Antioxidants help in keeping your skin youthful for a long time and prevents the appearance of fine lines and wrinkles. Juicing cabbage has had benefits for glowing skin and  to reduce ulcers as well.
Moreover, it's an incredibly versatile vegetable that can be enjoyed raw, cooked, or fermented and added to a variety of dishes.
Packed with Vitamin C — as in, more than oranges! Vitamin C helps boost your immune system and repair tissues in your body and does wonders for your skins collagen production.

Anti-inflammatory, which means it helps fight inflammation throughout the body. It reduces intestinal mucositis to aid in lowering gut inflammation. Inflammation shows up in our body in so many different ways – IBS, acne, pain – the list could go on!

Loaded with Vitamin K which helps with a variety of body functions — everything from blood clotting to bone health.

High in antioxidants. You've probably heard that term but what does it mean? Have you heard of free radicals? They are the same as oxidative damage or stress in the body. Antioxidants combat those free radicals which essentially counteracts the damage happening in our bodies. 

On the Environmental Working Group Clean 15 list — which means it is one of the lowest fruits and vegetables with pesticide residue. 
Here's a delicious Asian Chopped Salad
3 cups

chopped/shredded napa cabbage or romaine lettuce

5 cups

chopped/shredded purple cabbage

½ cup

shredded carrots

1 cup

chopped red bell pepper

1

avocado, sliced

2

–

3

green onions, sliced

1/4 cup

chopped cilantro

1/4 cup

chopped almonds

2 cups

shredded chicken
Dressing:

○ 1/4 cup natural almond butter/or peanut butter (no sugar added)
○ 2 Tablespoons fresh lemon juice
○ 2 tablespoon Olive Oil
○ 1tsp sesame seed oil
○ 1 tablespoon low sodium tamari or soy sauce/Braggs Aminos
○ 1 inch knob fresh ginger, peeled
○ 1–
2
cloves garlic
optional-1 pitted medjool date
○ a few dashes of chili powder
○ ⅓ cup water
If you have a food processor, chop all the ingredients or just cut into small shredded pieces. Mix up dressing and stir into salad.