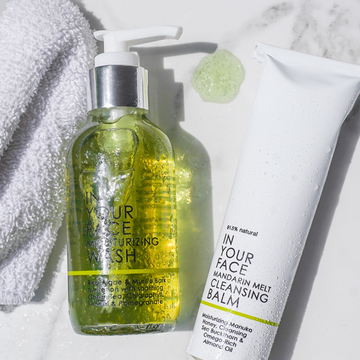 Face cleansing is the difference between dry, dull skin and dewy, supple skin.
After all, taking care of your skin will keep it looking firm, elastic, and radiant for years to come. Every strong skincare routine should start the same way - with a thorough wash using a gentle, moisturizing cleanser.
From there, you can move on to the rest of your skincare routine… But not before double cleansing!
What is Double Cleansing?
"Double cleansing" is a Korean skincare trend that involves exactly what it says - washing your face twice. 
But in a world full of hacks to speed up your routine, who wants to commit to a SECOND face wash... 
Why Double Cleanse?
Believe it or not, double cleansing IS a time-saving skincare hack!
Your skin is much better off with two gentle cleansing steps instead of one strong formula, which can strip sensitive skin, leaving it feeling over-dry. 
Double cleansing provides a spa-quality deep clean while maximizing absorption of skincare products to follow. It's a win-win! 
But this is more than just washing, rinsing, and washing again with the same product.
Much of the day's pore-clogging and acne-causing impurities tend to remain after a gentle face wash, like:
Dirt
Makeup
Sunscreen
Sebum
These skin-clogging pollutants need a ONE-TWO PUNCH to fully melt away.
The first cleanser helps to purge oily impurities such as makeup, sebum, and SPF, therefore, it needs to be oil-based. Our MANDARIN MELT CLEANSING BALM contains oils such as organic coconut oil, almond oil, and more to immediately dissolve impurities on contact. 
The second cleanser removes residue from your first cleanse while drawing out water-based impurities like sweat and dirt, so it should be gel or water-based. Our gel MOISTURIZING WASH contains aloe, red sea algae, green tea, and chlorophyll to gently whisk away any residue left by your first cleanse while depositing nutrients to renew your skin. 
NOTE: Double cleansing also leaves pores clean and clear, ready to absorb your other skincare products, maximizing the rest of your routine.
How to Double Cleanse with Our Mandarin Melt and Moisturizing Wash
Start with a gentle, oil-based cleanser (our MANDARIN MELT) and follow up with a water or gel-based cleanser (our MOISTURIZING WASH).
Our MANDARIN MELT CLEANSING BALM with restorative olive and coconut oils is a nourishing and emollient cleansing balm that melts away dirt from clogged pores, stubborn makeup, and SPF effortlessly without irritating skin or delicate eye area, leaving your skin ultra soft and radiant. 
It magically acts as a double cleanser, dissolving all traces of impurities from your skin - just pair it with our hydrating MOISTURIZING WASH to prepare your skin for the rest of your skincare journey. 
No matter your skin type, these products will work wonders for you as long as you follow these simple steps: