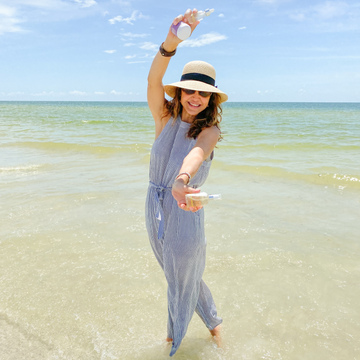 Daily skincare is essential when it comes to keeping a youthful, radiant appearance. During the summer, however, you may need to change a few things to keep your skin's glow. Let's check out what sort of skincare routine you should use this summer -
day and night!Why do we need to change our skincare routine for the summer?
When it comes to proper skincare, one of the most important rules is to change up your routine for winter and summer. Why? Well:
The summer sun is much more intense.
The summer humidity is higher.
The bacteria in salt water and chlorine in pool water can dry out and damage skin.
These factors and more can wreak havoc on your skin - but if you're prepared, you can get through the summer with your smooth, dewy radiance intact!

Essential Daytime Summer Skincare Steps

Your skincare routine should be lighter during the summer months. Though the high humidity provides more skin hydration, you will need products to lock in that moisture and protect your face on those long, hot summer days.

Follow these steps to keep your skin healthy and protected all summer long!

1. Use a Gentle Cleanser to Remove Dirt, Makeup, & SPF
Summer air (especially in warmer states, like Florida) is typically very hot and humid and can lead to extra sweating, clogged pores, and breakouts. This can also leave your face feeling oilier than usual when you wake up. In the morning, start with our MANDARIN MELT CLEANSING BALM for a gentle cleanse. This nourishing & emollient cleansing balm removes dirt from clogged pores, stubborn makeup, and SPF effortlessly without irritating skin or delicate eye areas, leaving your skin ultra soft and radiant.
If you're someone who needs to double cleanse, our MOISTURIZING WASH is perfect for your second round of cleansing. It gently and effectively cleanses and soothes skin without stripping its essential moisture barrier!
NOTE: Looking for something even lighter for your morning cleanse? Replace your morning wash routine with a "Toner Cleanse" using our CITRUS CUCUMBER TONER, as it removes impurities without stripping the skin. 
2. Boost Skin Protection with Supercharged Antioxidants

Free radicals are unstable atoms that break down collagen and increase
physical signs of aging like wrinkles, dark spots, fine lines, and sagging skin.
Antioxidants, like Vitamin C and Vitamin E, fight and reduce free radicals,
boosting your immune system to keep you healthy, inside and out!

Use a serum with antioxidants, like our PLUMPING SERUM, a nourishing infusion of 18 different botanicals, vitamins, and antioxidants. This serum is boosted with 18 different botanicals, vitamins, and antioxidants, like Vitamin C to boost collagen, Hyaluronic Acid to provide all-day hydration, and Shiitake mushroom to brighten skin luminosity.

3. Use a Lightweight Moisturizer

The humidity in the summer air usually has enough moisture to keep your skin
hydrated… While also making you sweat and lose your own moisture. This is why
it's important to apply a lightweight moisturizer that contains moisture-locking
ingredients, like our NOURISHING OIL.

This luxurious blend of all-natural, plant-based active oils improves skin elasticity
and the appearance of fine lines, while ingredients like Camellia seed oil and
Evening primrose oil lock in moisture with essential fatty acids to keep your face
hydrated and smooth during those long summer days.

4. Use Sunscreen… And Reapply

Quite possibly the biggest contributor to signs of skin aging is sun damage. That's
why you need to apply it every time you spend a lengthy period of time in the sun… A mineral-based SPF 30 sunscreen on your exposed skin, like our MINERAL TINT SPF 31, will protect your outer layer from damaging UV rays.
Our SPF is formulated with skin-loving ingredients, is fragrance-free, and is environmentally friendly, ensuring the safety of rivers and reefs - and your skin! Its natural finish leaves your skin looking fresh and radiant, while its portable design ensures convenience for on-the-go sun protection throughout the day. 
Just don't forget to reapply!
Essential Nighttime Summer Skincare Tips

Just because your daily skincare routine may be lighter, doesn't mean you should skip your nighttime routine. Products that nourish and clean your pores are great for helping your skin recover from the long, sunny summer days.

1. Melt Away Daytime Products & Buildup

Remember the first step of the day and that gentle cleanser you used, our
MANDARIN MALT CLEANSING BALM? Make sure to use this same cleanser to kick off your nightly routine and wash away makeup, SPF, and other impurities from the day. Our MOISTURIZING WASH is also a great option.
NOTE: You can also combine these two for the purpose of double cleansing, as we said above.

Oily Skin? Use a Face Mist to Hydrate & Close Pores

Heat and humidity open pores up and leave them susceptible to clogging overnight, so after your cleanse, immediately follow up with our BLUE TANSY HYDRATING FACE MIST to close your pores and help hydrate skin.

2. Use a Vitamin C Serum

Yes, you can use our PLUMPING SERUM again with your nighttime routine! Since the summer sun is so damaging to your skin, Vitamin C is crucial to help build collagen levels and brighten skin… and our serum is made with 20% L-Ascorbic acid, the most potent and powerful form of Vitamin C.

3. Exfoliate 2-3 Times a Week

As we mentioned above, the hot summer air and humidity can cause excessive
sweating. This increases the buildup of dead skin cells, dirt, SPF, makeup, sebum, and more, clogging pores and leading to breakouts and dull, dry skin.

Use a gentle and effective exfoliator twice or three times a week, like our BAMBOO REFINING POLISH, a gentle, clarifying skin buffer that exfoliates with organic salicylic acid, bamboo, aloe, green tea, and more for immediate texture renewal. Exfoliating regularly will keep your skin clean while also preparing your skin for serums and other products to follow.

4. Mask After You Exfoliate

When you exfoliate, you remove dead skin cells. Since those dead skin cells are
now removed, this opens up your skin to the many benefits of a face mask, like
our PUMPKIN ENZYME MASK and BLUEBERRY BOOST MASK. These masks use pure, active botanical ingredients, antioxidants, and amino acids to deliver a
spa-quality superfood smoothie to your freshly cleansed skin. This balances and
boosts your skin's microbiome, leaving your barrier fresh and healthy!

Just because the warm air and summer sun can cause damage and speed up aging, doesn't mean you can't enjoy it while you can. Just make sure to adjust your skincare routine accordingly with the steps above, and you'll take your first steps into fall with even, clear, and luminous skin!