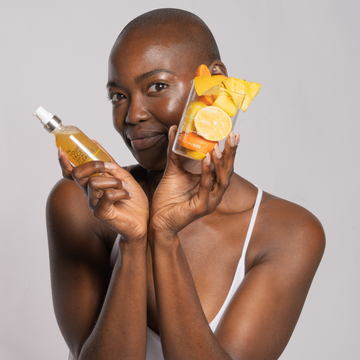 Dermatologists Say Vitamin C Is the Ultimate Brightening, Anti-Aging Antioxidant— Read Why!
Vitamin C has a vital job when it comes to our daily routine, made all the more important by the effects of pollution, the sun, and everyday oxidative stress on our skin.
Vitamin C, a very powerful antioxidant, provides our overall health and body with many benefits, including improved radiant and youthful skin.
Boosting collagen and brightening skin, Vitamin C is a common ingredient in anti-aging skincare products in a wide range of forms, helping with skin regeneration, keeping cells protected, and repairing them.

To find the best products for your skin, it's important to understand what benefits Vitamin C holds for your skin and the different forms it can come in.
WHAT IS VITAMIN C?
Vitamin C (L-ascorbic acid in its purest form) is a natural, water-soluble antioxidant required to maintain the production of collagen, along with other important things. Collagen is an essential building block of healthy skin, making Vitamin C essential for a glowing complexion.
Since it is an antioxidant, it also works to fight free radicals within your skin. These are unstable molecules that enter your skin via UV rays, pollution, and other environmental toxins.
Free radicals cause harm to your skin that, over time, can lead to signs of aging like fine lines and wrinkles or dark spots and uneven skin tone. Antioxidants restore skin balance by neutralizing these free radicals so they can no longer harm skin cells.
WHAT ARE THE TYPES OF VITAMIN C?
L-ASCORBIC ACID (PURE VITAMIN C )
The most potent and refined form of Vitamin C on the market, L-ascorbic acid is full of antioxidant benefits and can go a long way in reducing skin damage and preventing signs of aging. This form of Vitamin C works very well when combined with Vitamin E and ferulic acid, both of which boost the stability and efficacy of it. You can find all three of these dermatologist-recommended antioxidants in our
PLUMPING SERUM
, in its 20% Vitamin C solution.
ASCORBYL PALMITATE
Unlike the water-soluble L-ascorbic acid, ascorbyl palmitate is fat-soluble, meaning it can be delivered in a thick, creamy consistency while giving skin a potent dose of antioxidative skin repair and protection while brightening skin. You can find ascorbyl palmitate in our rich, velvety
CREAM
, providing all day hydration that locks into your skin.
ASCORBYL GLUCOSIDE
When applied topically, ascorbyl glucoside penetrates your skin to convert to Vitamin C, providing all the potential benefits of L-ascorbic acid with less potential for irritation. You'll find this in our
BLUE TANSY FACE MIST
, a refreshing burst of brightening antioxidants and protective minerals for a healthy, youthful glow.
VITAMIN C WITH BIOFLAVONOIDS
Plant-based compounds that come from certain fruits and vegetables are known as bioflavonoids. These help enhance antioxidant benefits and when paired with Vitamin C, they will strengthen its effects on the skin, while slowing down the Vitamin C decay process. One fruit rich in bioflavonoids, antioxidants, and Vitamin C is gooseberry, which you can find in our plant-based retinol alternative, our
BAKUCHIOL WONDER SERUM
!
THE MOST EFFECTIVE FORM OF VITAMIN C FOR SKIN
When looking into the best form of Vitamin C to add to your skincare routine, understanding which form is in which formula to pick the best products and receive the best results. Most products that contain derivatives of Vitamin C do not always convert to active Vitamin C when absorbed, so it's important to find products with L-ascorbic acid, like our
PLUMPING SERUM
, ascorbyl palmitate, like our
CREAM
, ascorbyl glucoside, like our
BLUE TANSY HYDRATING FACE MIST
, and/or bioflavonoids, like our
BAKUCHIOL WONDER SERUM
.
 
With ingredients and products like these that naturally support your skin with hydration, here's to radiant and beautiful skin at any age!
Thank you for reading this article and if you want to learn more about the best products for your skin type, take our SKIN QUIZ here. You can also CONTACT US here or call us at (727) 286-7684 with any questions, we'd love to hear from you!

XOXO,
Denice
P.S. Check out our collection of Vitamin C products below!