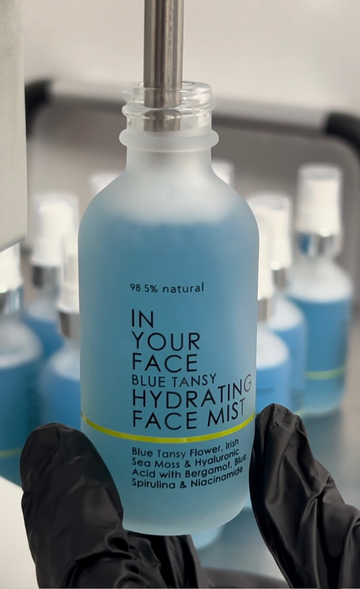 Have you noticed how much of a buzz there's been lately around the concept of small batch skincare? The basic concept of it is pretty simple - it just means that skincare products are made more frequently & in smaller quantities.
SMALLER BATCHES, HIGHER POTENCY
Bigger skincare companies mass produce their products to the point that they sit on store shelves for months… Sometimes even years! Our products use no artificial preservatives or ingredients, just botanical extracts and organic phytonutrients.
Which is exactly why natural, small batch products have limited availability and sell faster. That may be a little disappointing when your favorite is unavailable, but you can rest assured knowing that when you do get your skincare, it'll be the most fresh and effective version of it!
NATURAL PRESERVATIVES
Another benefit of using small batches to create our products is that it allows us to
support our formulas with natural preservatives that won't cause any negative side effects. Many formulas on the market today are filled to the brim with artificial preservatives, synthetics, and other harsh chemicals that are harmful to not just our skin, but our overall health.
That way, consumers that do their best to use clean beauty products will be able to get their desired results without detrimental added ingredients.
SUSTAINABLE PRODUCTION
Small batch skincare is more environmentally friendly than conventional production methods, starting with the fact that there is much less of a risk when it comes to waste, since we are not overproducing products.
Smaller volume of products also leaves less room for errors in production that could create more waste or, even worse, negatively impact the skin health of customers.
This sustainable skincare production also leaves less of a carbon footprint, since not as many machines or employees are used to formulate and fill the product.
SHORTER SHELF LIFE
An important factor to note when it comes to small batch skincare is, since there are no artificial preservatives, these products will have a shorter shelf life when compared to different products on the market. But this is a good thing!
Most conventional skincare products are made with unnatural preservatives to keep them on the shelf for months at a time, but they can also negatively impact your skin and reduce the potency of active ingredients.
Sure, small batch skincare products may not have the staying power that artificial
preservative-filled products do but you can rest assured that you'll have products
that always function at their best with fresh active ingredients for the best results.
TARGET SPECIFIC SKIN CONDITIONS
Even though the shelf life may be a little shorter (but not by much with IN YOUR
FACE SKINCARE products), small batch skincare is incredibly effective at taking care of specific skin conditions.
Dehydration, hyperpigmentation, dullness, fine lines and wrinkles - small batch products with the right high-quality ingredients (like our serums) will give you your most radiant glow yet.
PERSONAL
Finally, we love small batch skincare products because, in the case of our company, it gives us the chance to add a personal touch to each order, like our handwritten notes. Every batch of IN YOUR FACE SKINCARE'S moisturizing
CREAM
, sulfate-free
MOISTURIZING WASH
, retinol-alternative
BAKUCHIOL WONDER SERUM
, everything is made with care, attention to detail, and nothing less than what we would put on our own skin.
Thank you for reading this article and if you want to learn more about the best products for your skin type, take our SKIN QUIZ
here
. You can also CONTACT US
here
or call us at (727) 286-7684 with any questions, we'd love to hear from you!
XOXO,
Denice