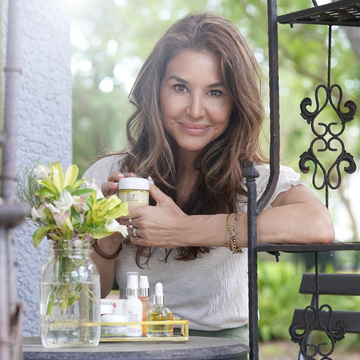 Let's face it, most resolutions are centered around getting ourselves healthier, both from the inside and the outside. Which is totally correct. 
Self-care. What is it? It's using a bit of loving discipline to take care of your physical and emotional well-being. 
The daily steps of self-care are simple things you can do that don't require buying any fancy equipment or trying to add a few more hours onto your already busy days. It's less about making extra commitments, and more about making small adjustments and implementing effortless habits into your existing routine to help rejuvenate, rest, and replenish many parts of your life.
Skincare and self-care go hand in hand to help you stay mindful while keeping the youthful, smooth glow we all strive toward!
DAILY SELF-CARE WITH SKINCARE
Now that you know the importance of self-care and how it goes hand-in-hand with skincare, let's talk about a daily skincare routine. 
A good skincare routine is not only great for keeping skin clean, nourished, and prepared for your skincare products, but it's also a great way to decompress at the end of the day and just spend some time being mindful. 
A SIMPLIFIED ROUTINE
Here's a great place to start using our natural and effective products to help focus on your self-care, head to toe:
STEP 1: CLEANSE
This is probably the most important step in your routine. After all, if you don't take time to clear your pores, the rest of your products won't be able to work as effectively! 
Our MANDARIN MELT CLEANSING BALM uses hydrating and smoothing sea buckthorn oil, skin-strengthening Vitamin E, and skin-balancing manuka honey to instantly melt away dirt, stubborn makeup, and SPF, and leave your skin soft, radiant, and prepped for the rest of your routine.
STEP 2: EXFOLIATE
Two to three times a week, it's crucial to refresh your skin with an exfoliator to help remove dead skin cells and allow new ones to take their place. 
For a simple and natural at-home peel, our DEEP ENZYME CLEANSE uses glycolic acid (an AHA) to unglue dead skin cells, pineapple enzymes to promote collagen production and initiate cell turnover, and even green tea and all its antioxidants to protect from free radicals to keep your skin healthy. 
Denice Tip: Whenever you start a new exfoliator, exfoliate once a week to see how your skin reacts to it before upgrading to two or three times a week. 
STEP 3: MOISTURIZE
Just as important as cleansing is keeping your skin moisturized. 
For your face, we have our 100% natural CREAM, the product that started it all, is full of important, natural ingredients like softening jojoba oil, oil-balancing ylang-ylang, skin-healing CoQ10 and green tea, and lightly exfoliating alpha lipoic acid, to keep your skin moisturized and rejuvenated. 
To prevent dryness on the rest of your body, there's also our HYDRATING CREAMY BODY OIL, perfect for right after a bath or shower! It contains soothing calendula flower, hydrating and balancing jojoba oil, cleansing citrus oil, and a refreshing blend of cocoa and shea butter to soften, moisturize, and brighten your skin. 
Denice Tip: Our CREAM is very rich, and a little goes a long way.  If you end up taking a little too much, rub the excess into your elbows, heels, and backs of your hands.
STEP 4: PROTECT & REPAIR… YOUR HAIR?
Another great thing when it comes to self-care and skincare is that you can focus on much more than just your face. 
Our NOURISHING OIL is rich with restorative and protective nutrients, from luminating marula and tamanu oils along with camellia seed and green tea to enrich and defend your skin… and your hair!
If your hair is dealing with any damage from split ends, heat, color, or chemicals, just smooth a couple of drops onto the ends of your hair to repair damage and prevent it from occurring again. 
STEP 5: MINERAL MASK
Plenty of people associate self-care with going to the spa, and it's not hard to see why.
After all, spas are made to give you that relaxing, therapeutic rejuvenation we all need every now and then. And with our RADIANT DETOX MINERAL MASK and handcrafted artisan BOWL, you can give yourself the ultimate in self-care with a full spa experience… at home! 
A restorative blend of two mineral-rich clarifying clays, soothing Rose Petal powder, and anti-aging adaptogens like ashwagandha root and ginger root, our MASK is great for purging clogged pores and strengthening your skin barrier function to leave you velvety smooth and bright.
Denice Tip: Since this is a powder mask, you can customize it with other beneficial skincare ingredients, like honey, Greek yogurt, or even a spray of our BLUE TANSY HYDRATING FACE MIST!
STAY CONSISTENT
Just like everything else in life, if you stay consistent with your skincare and self-care routine, you'll see results in no time. Think of your skin like a plant - if you water it once or twice and stop, you'll have a much more difficult time helping it thrive when it's already wilted and dried out. Making a doable lifestyle change rather than going for a quick fix will lead you to long-term results and a lasting change in your life for the better!
If you have any questions about self-care or the right products for your skin, take our Skin Quiz here and contact us on this page. You can also call us at (727) 286-7684, we'd love to hear from you.
XOXO,
Denice