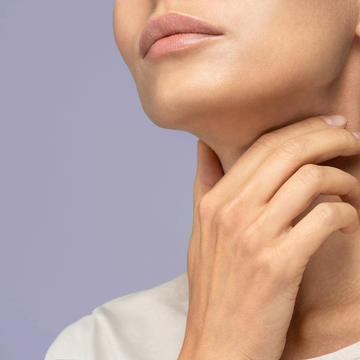 When it comes to skincare, what immediately comes to mind?

Probably your face, right?

Of course, your face is one of the most important parts of your body and the first thing people notice about you, but what about your neck? Most of the time it's also visible, not to mention that it has much thinner and more sensitive skin than your face…

A little love to this area can go a long way, as skincare shouldn't just stop at your chin.

YOUR NECK IS DELICATE & AGES FAST

Like we already mentioned, the neck has some of the thinnest skin on your body, and it's pretty delicate, especially considering the few oil glands it has (nowhere near the amount of your face).

Most of the aging that affects the skin on your neck is thanks to a loss of moisture, which is why it's important to find products with natural ingredients to keep it moisturized and supported, along with products that lift and tighten.

Keep reading for three IN YOUR FACE SKINCARE products that will help you keep your neck smooth, dewy, and elastic!

VITAMIN C PLUMPING SERUM

Vitamin C works wonders when it comes to your immune system, but applying it to your neck works wonders when it comes to anti-aging and, more specifically, tightening your skin without stripping its moisture barrier. Clinical studies have shown that when applied topically, Vitamin C drastically improves the rate of collagen production, helping keep your neck skin refreshed, hydrated, and tight.

Our PLUMPING SERUM also contains hydrating hyaluronic acid, a humectant that attracts moisture into your neck's skin cells and holds it there, ensuring your neck stays dewy and smooth all day long.

TIP: Apply in the morning to provide protection from UV rays and pollution with the help of Vitamin C!


BAKUCHIOL WONDER SERUM

When it comes to your skin, retinol is a great option to tighten and firm. However, since the skin on your neck is more sensitive than most areas on your body, retinol may be a bit too strong. For a plant-based alternative with none of the harsh side effects of retinol, bakuchiol is an absolute hero for reversing aging and firming skin on your neck.

Our WONDER SERUM not only has the hydrating, firming, and age-defying benefits of bakuchiol, it also has ceramics and CoQ10 which both help your neck retain moisture, strengthen its protective barrier, and keep it looking firm and plump.

TIP: For an overnight boost to your collagen and cell turnover, be sure to apply before bed!


THE CREAM

After your routine, it's time to follow it all up with a natural, non comedogenic moisturizer that does more than just hydrate your neck. Our rich, velvety CREAM is packed with protective antioxidants and phytonutrients to keep your skin hydrated, soft, and balanced… and it's perfect for your neck's delicate skin.

Jojoba oil hydrates and soothes, ylang-ylang balances oil production, geranium increases collagen production while enhancing elasticity and smoothness, CoQ10 and green tea fight off free radicals and reduce fine lines and wrinkles, and, finally, alpha lipoic acid helps to naturally tighten and improve firmness.

All of these powerhouse natural ingredients (and more) work together for an effortless treatment that provides powerful, effective hydration and healing that lasts all day or night long.

TIP: This cream is very rich and a little goes a long way. If you end up with too much, rub whatever is left over on the back of your hands - they'll definitely appreciate it!

GUA SHA STONE

A powerful anti-aging tool, our GUA SHA STONE encourages lymphatic drainage while increasing blood flow, eliminating toxins, boosting collagen production, and reducing puffiness for an even, smooth complexion. Many people think that gua sha shouldn't be used on sensitive skin areas, but this just isn't true!

Gua sha is perfect for helping to reduce redness and irritation - it's even good for use on acne since it helps to improve circulation and break up skin congestion. Plus, as you massage your skin with it, the stone will help your skincare products penetrate even deeper.

With consistent use along with serums and moisturizers, our GUA SHA STONE will leave your neck firm and more defined without irritation or redness.

Now that you know a little more about keeping your neck as radiant and youthful as the rest of your skin, it's time to get started! Check out all of our skincare products over on our home page.

Questions about your skin and which products are best for it? Take our Skin Quiz and feel free to contact us at this page or by calling us at (727) 286-7684, we'd love to hear from you!

XOXO,
Denice