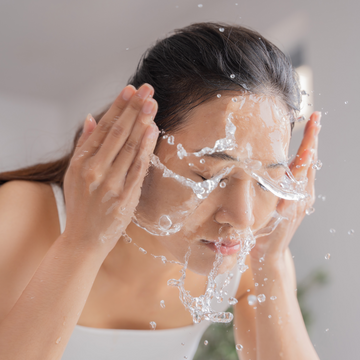 There's something about that dewy, fresh feeling we get from removing dead skin cells that makes exfoliation one of the most satisfying parts of skincare.
It's also completely crucial to your skin health! 
Not only does it slough away dead and dry skin cells for optimal skin renewal, but it has plenty of other benefits to keep your skin radiant, clear, and youthful. 
Here are five benefits of exfoliating, a non-negotiable for your skincare routine.
1. Unclogging Pores: When exfoliating, you're unclogging your pores. Sweeping away dead, dry skin cells keep them from seeping into your pores and mixing with sebum to cause blackhead and whiteheads. Exfoliating stops breakouts before they even occur, keeping your pores clear.
2. Increasing Cell Turnover:  Exfoliation increases circulation, already boosting your skin's radiance - but it also helps with cell turnover. This means that by exfoliating and removing these dead cells, your skin is making way for new, fresh, healthy cells to come to the surface and give you that baby-faced look we strive for.
3. Boosting Other Skincare Products: Once you exfoliate and clear your pores, it allows the rest of your skincare products (serums, moisturizers) to penetrate more deeply and work more effectively.
4. Evening Out Skin Tone: Dark spots, hyperpigmentation, acne scarring? So frustrating to deal with. Thankfully, exfoliants smooth texture while breaking down and removing dry/dead skin cells, leaving your skin looking more uniform over time. 
5. Stimulating Collagen Production: Regularly exfoliating helps to stimulate collagen, an essential skin protein that provides structure, support, and strength to help keep your skin plump and tight. 
How Do I Exfoliate?
There are two main types of exfoliation, chemical and physical. Chemical exfoliation uses chemicals like alpha and beta hydroxy acids (AHAs & BHAs) to gently dissolve skin cells, while physical exfoliation uses scrubs or tools (sponges, brushes) to physically remove them.  
If you deal with dry or sensitive skin,  use a gentle, natural chemical exfoliator, like our DEEP ENZYME CLEANSE. This cleansing exfoliant uses a classic AHA, glycolic acid, along with natural fruit enzymes to unglue dead cells from the skin's surface and promote collagen production for cell turnover. Start with exfoliating once a week - once your skin is used to it, you try expanding it to two to three times a week.
On the other side of that token, if you deal with oily or thick skin, a strong blend of physical and chemical exfoliation will be best to clear your pores, like with our BAMBOO REFINING POLISH. 
This exfoliator uses a natural BHA sourced from aspen bark, salicylic acid, to unglue dead skin cells from your pores while the superfine particles scrub them away… While actively polishing the skin to stimulate skin renewal and leave complexion smoother and hydrated. People with oily skin need to exfoliate regularly to help avoid acne and breakouts, two to three times a week. 
For normal skin, however, it's best to test the two types of exfoliating on your skin to see how it reacts and which is more effective. Since normal skin is much simpler to maintain and balance, sticking to a regular exfoliation schedule of two to three times a week should be enough to keep your skin hydrated and smooth. 
Be gentle to your skin when applying products and especially when using physical exfoliators. It's also important not to over-exfoliate, as this can leave skin red, irritated, and dry.
For scrubs and other chemical exfoliators, use small, circular motions to gently massage the product into your skin for about 30 seconds before removing with a gentle washcloth (or one of our biodegradable CLEANSING CLOTHS).  
For physical exfoliators or exfoliating with tools, use gentle, light strokes and be sure to avoid exfoliating if you have an open cut or a sunburn. 
What Should I Do After Exfoliating?
After exfoliating, much of your face's oil and moisture is stripped away to allow the cellular turnover process to begin again. This can leave skin dry and irritated, but it also leaves skin ready to absorb the rest of your skincare products!
Start with any serums you may use, whether it's a moisturizing Vitamin C product like our PLUMPING SERUM, a plant-based, brightening retinol like our BAKUCHIOL WONDER SERUM, or a tone-balancing treatment like our CLARIFYING SERUM. Serums are important to maintain the healthy, balanced barrier your skin needs, so you definitely don't want to waste them by exfoliating after application. 
After applying your serum(s), apply a rich, velvety moisturizer, like our very first product, THE CREAM. This product is full of botanical antioxidants and organic phytonutrients to not only moisturize and hydrate your skin, but to act as a repair treatment to help rebuild your protective moisture barrier overnight.
Exfoliating is one of the most important skincare processes, making way for new skin cells and a youthful, luminous complexion.
Have any questions about exfoliating? You can Contact Us here or call us at (727) 286-7684.
XOXO,
Denice