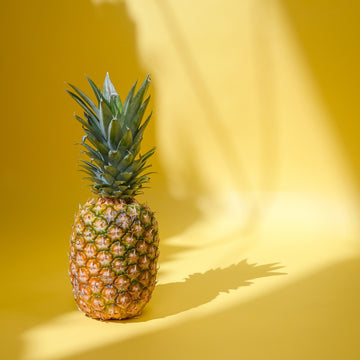 Every step in your skincare routine is a crucial part of keeping your skin smooth and toned, and one of the most important steps is exfoliation.
Exfoliation is the process of removing dead skin cells from the surface of your skin, allowing for newer, healthy cells to take their place. 
The most common exfoliators are physical (scrubs, brushes) and chemical (AHAs/BHAs), with the lesser known third option being fruit enzymes.
Fruit enzymes have received quite the buzz in the skincare community lately, and it's not hard to see why. But should you rush out to add some fruit enzymes to your skincare routine?
Read on to learn more! 
HOW DO FRUIT ENZYMES BENEFIT THE SKIN?
Fruit enzymes are an effective, gentle way to slough away dead skin cells and remove the day's buildup, promoting cellular turnover and a bright, smooth complexion.
They are particularly effective in exfoliating the skin because they are able to break down dead skin cell proteins and penetrate the skin on a deeper level, gently removing those cells and revealing glowing, supple skin.
ARE FRUIT ENZYMES SAFE FOR ALL SKIN TYPES?
Fruit enzymes are much gentler on the skin than other types of exfoliators - they only remove the top layer of dead skin cells and leave the healthy cells underneath unharmed.
This one fact alone makes them safe for all skin types, but it's especially true for sensitive or acne-prone skin. 
HOW DO I ADD FRUIT ENZYMES TO MY SKINCARE ROUTINE?
Fruit enzymes can be found in a variety of skincare products, such as cleansers, masks, peels, and scrubs. You'll also find them in our DEEP ENZYME CLEANSE.
This non-abrasive wash naturally sheds dead skin cells with the TRIPLE THREAT of glycolic acid, grapefruit oil, and bromelain, the superpowered fruit enzyme sourced from pineapple!
These high-quality, natural ingredients have been selected for the strict mission to unclog pores, loosen dead skin cells, and dramatically renew your skin so you can look your most radiant while keeping skin healthy and youthful. 
You can find this luxurious product and many more in our online store here! 
And if you have any questions about your skin and the best ways to treat it with our products, you can take our Skin Quiz here or Contact Us today, we'd love to hear from you.
XOXO,
Denice