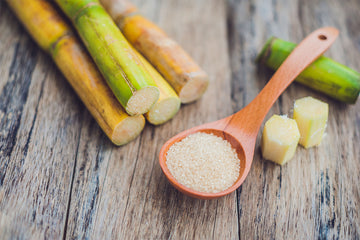 You see "glycolic acid" all over the place on quality skin care product labels. And for very good reason. It's used to exfoliate and resurface the skin, treat acne, brighten skin tone, reduce wrinkles and dark spots, reduce pore appearance, and increase collagen production. As a skin care ingredient, glycolic acid has been trending for years. And it's still trending in 2021. Let's talk about what this magical ingredient really is, and why it's so popular.
WHAT IS GLYCOLIC ACID?
Glycolic acid is part of the family of Alpha-Hydroxy acids (AHAs) It is derived from several sources, most commonly sugar cane. But can also be extracted from sugar beets, pineapple, cantaloupe and unripe grapes. Other members of the AHA family are malic acid (from apples), lactic acid (from sour milk), tartaric acid (from unripe grapes) and citric acid (from citrus fruits), all of which are also used in skincare. As the smallest and lightest molecule of all the AHAs, glycolic acid can penetrate the skin and go deeper into the skin than a larger molecule.
HOW DOES IT WORK?
The reason glycolic acid has earned its stellar reputation in skincare is simply the way it works. It helps gently separate the connections between skin cells in the outer layers of skin and promotes exfoliation. This speeds up cell turnover and allows new, fresh cells to come to the surface. All the known benefits of glycolic acid stem from this action.
There are levels of glycolic acid use in skincare: over-the-counter home use, spa use and dermatologist use. And with these are various levels of glycolic acid to solve various problems. Here's a basic outline.
AT HOME
For brighter, healthier-looking skin, a reduction of breakouts or fine lines, the strength available in over-the-counter products is sufficient. Using low concentrations of glycolic acid over long periods of time will improve your skin's overall appearance, health and glow.
SPA/DERMATOLOGIST
For more forcefully treating specific skin issues like noticeable sun damage, dark spots, acne marks, deep lines or wrinkles, there are professional peels available at med spas and dermatologist offices. These are prescription-level doses of glycolic acid that you definitely would not want to use daily, but which can deliver fast results. However, the higher percentage of this ingredient in a professional peel also can be more irritating to skin. The strongest peels of up to 70% are only available at a dermatologist's office.
Glycolic acid works immediately, no matter what the strength. For frequent at home use, we suggest our DEEP ENZYME CLEANSE, which contains glycolic acid) once or twice a week. You will likely feel a tingle in the first few seconds to a minute after applying. That means it's working to break apart the top layer of cells so natural exfoliation can occur. You can leave it on for a few minutes before washing it off with warm water. Follow that with your serum, moisturizer and sunscreen. Of course we recommend PLUMPING SERUM and THE CREAM following the DEEP ENZYME CLEANSE. These restore the pH balance of the skin and hydrate it.