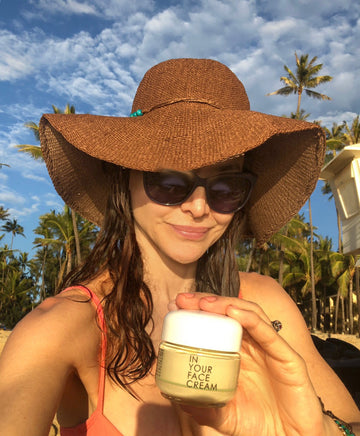 Summer can be a trying time for your skin with the blazing sun and the scorching heat.
All the more reason to give your skin a little extra love!
Here are some skin-happy tips for this summer:

Exfoliation revitalizes skin's appearance while greatly reducing clogged pores and removing dead skin, which in turn helps to improve hydration from toners and moisturizers. 

Makeup also lasts longer on exfoliated skin!
After you exfoliate, follow with our hydrating CREAM to seal in moisture, and make sure to shield freshly exfoliated skin with an SPF (as recommended by the FDA).
For a boost of moisture, pat and press in our Vitamin C & Hyaluronic Acid PLUMPING SERUM. Then follow up with our 100% all-natural CREAM - good for the face, eyes, lips, elbows, knees and anywhere else! 
TIP: Refresh and improve skin's moisture with a spritz of our new TONER! Keep in the fridge for an extra refreshing sensation.


Higher temps and more time spent outdoors can lead to dehydration, which can result in dizziness, headaches and feeling worn-out.
Aim to drink eight 8-ounce glasses of water every day to help to maintain your skin and body's moisture balance. 

TIP: Did you know that strawberries are 92% water, oranges are 87% water, watermelon is 91% water, and bell peppers are 92% water? Time for some yummy hydrating fruits and veggies!