ROUTINE
Easy Steps to a Basic Skincare Routine!
denice duff Jul 15, 2021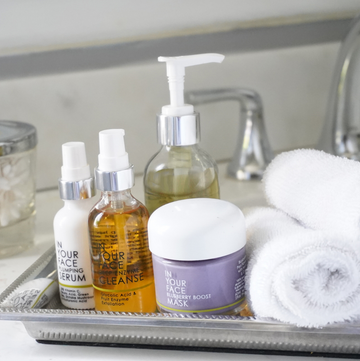 Michele Farber, a board-certified dermatologist in New York City says: "In creating your first skincare routine, keep it simple. No matter what your skin type is, you'll want to start with a clean, toned base, then apply skin-friendly, active ingredients, and finish by sealing in moisture (and SPF) to start your day."
Here are the steps for a good basic skincare routine:



PRO TIP: Though oily skin may need a light cleanser like our MOISTURIZING WASH or GINGER MINT WASH, in the morning, normal to dry skin can just be rinsed or even swiped with just a pH-balancing toner, like our CITRUS CUCUMBER TONER, or sprayed with a face mist, like our BLUE TANSY HYDRATING FACE MIST.
Then you are ready for your serums, like our Vitamin C PLUMPING SERUM, retinol alternative BAKUCHIOL WONDER SERUM, and lightly-exfoliating CLARIFYING SERUM, your eye product like our BOTANICAL LIFT EYE GEL, and creams like our rich and velvety CREAM or our light, mattifying MARINE PEARL CREAM.
Lastly, apply your MINERAL TINT SPF 31 for all-day protection against harmful UV rays.

PRO TIP: A good rule of thumb is to apply your products in order of consistency — thinnest to thickest texture. For example, start with our MOISTURIZING WASH or MANDARIN MELT CLEANSING BALM cleansers (or combine both for a double cleanse!), following up with our CITRUS CUCUMBER TONER or BLUE TANSY HYDRATING FACE MIST, then whichever serums your skin calls, your BOTANICAL LIFT EYE GEL, and your moisturizers, including THE CREAM or MARINE PEARL CREAM, following up with a few drops of NOURISHING OIL to lock everything in. 
Don't forget to keep the dry areas of your body (elbows, heels) with our HYDRATING CREAMY BODY OIL!


PRO TIP: 1-3 times a week, after cleansing, exfoliate with our BAMBOO REFINING POLISH or DEEP ENZYME CLEANSE. 1-2 times a week, after exfoliating, apply a mask like our BLUEBERRY BOOST MASK, PUMPKIN ENZYME MASK, or RADIANT DETOX MINERAL MAX.
Lastly, 3 times a week after exfoliating, hold our GUA SHA STONE flat to the skin under the eyes to soothe and de-puff while the stone is cool to the touch. Apply NOURISHING OIL, CREAM, or SERUM for added slip when you start the facial massage.
Let me know if you need anything or have any questions at all! I'm here to help. 😊